Leading up to D-Day, the festival of creative communications which is taking place at a different time this year, in a different format and as part of a totally new context, which you'll read about at Vizkultura soon, we're introducing some of the authors who won awards at the festival – picked up 'the D-day' medals. We're starting with Vanja Blumenšajn, copywriter and creative director, who at the first D-Day took home no less than three awards, including the 'most important one' – for Creative of the Year. In addition to the aforementioned awards with independent shine, Vanja can brag with an enviable number of awards from all spheres of the advertising industry (IdejaX, Red dot, Goldendrum, Eurobest, Festo, Effie,…).
In this general climate of discontent and all the possible shades of grey that completely encompass this little country of ours, it's always a pleasure to talk to people whose energy, dedication to their work and freshness of creative thinking are pretty contagious. Vanja definitely belongs to that group of people. Whether it's agency projects, self-initiated campaigns, humanitarian stories or his own personal gastro-orientated preferences, Blumenšajn visibly enjoys his work, creating projects that today bring multi-digits to some multi-company, tomorrow that much needed kuna (cent) to a small association, the day after tomorrow new branding to a small entrepreneur from Slavonia. What we talked about with Blumenšajn, in addition to dissecting D-Day and awarding authorship and Vanja's new professional page that he turned by launching his own agency, Señor, you can read about below.
Let's start with D-Day. At the first edition of the festival, you got no less than three awards, in addition to getting the Creative of the Year award. What did these D-Day awards mean for your career?
Vanja Blumenšajn: They sound good in short CVs that sometimes need to be written. I think that awards are important, especially for beginners, to encourage them and raise their own expectations, but they don't need to be the main point. Awards are always great and they make one feel good, but once you've gathered "critical mass" and fed your ego, you realize what's more important is meeting your (own) standards, personal satisfaction with your projects, pleasant collaborations and similar things. It seems to me that the biggest plus is that your colleagues have a better perception of you, and so you have a better "in" for new collaborations and lovely new projects.
How do you perceive D-Day as an independent platform that highlights and awards the best in creative advertising industry, how important has it become in the field these past couple of years and how different is it realistically from other awards that, among others, honor stories from the marketing world?
Vanja Blumenšajn: Through being part of the jury of Fest and idejaX in the last ten or so years, both of which I presided over twice, I have a good insight into how things function. The official national festival is by definition more inclined towards the advertising establishment and the big players, and so it's great to have an independent D-Day, which is more open to creatives, freelancers and all those who can shine a light on their work in that way. I've been reading some reviews of D-Day these days; without a desire to play judge, I'd say that between work and criticizing, I prefer to choose work. All imperfections aside (may he who is without sin, cast the first award), D-Day makes it possible for smaller, more alternative and often more creative projects to find their way to the public. And let's not forget, before the public to the big jury comprised of (200+) people from the creative field. The biggest power of D-Day doesn't come from comparing it to other festivals, but rather from its strong focus on authorship. It's a philosophy I relate to, because I've always appreciated the human factor, the power of talent, motivation and work that an individual can bring to a team and a project. D-Day values the most deserving for their ideas and performance, and the awarding and recognition of personal creative merits is immensely important. At the end of the day, those who hire should be aware of the fact that work is done by people, not by institutions.
What are you expecting of the next D-Day? Will you submit some works and do you think it's important to participate or is winning the most important?
Vanja Blumenšajn: Of course I will! It's a great opportunity to showcase the works you're happy with – an eventual award is only icing on the cake. I don't feel any rivalry, I like to see when good things get awarded – I'd say what actually gets me angry is when an award goes to a project that I deem, for lack of a better word, not sufficiently good. What I expect from the new crew is to expand the festival and make it more interesting and relevant, as they said they would. According to the first announcements, it would seem they're planning to open the festival up to all who have content that is worth sharing with those who are interested. I hope they'll optimize the mechanization related to voting, the optimal presentation of projects (like Behance, for example), a shorter shortlist to help voters focus on really good projects and in that way make it more user-friendly. If Zets and the crew are reading this, I'm at your disposal.
Do you think that D-Day and other similar awards are more important in the industry context – for bringing quality projects together, or in the more personal context and ego-pleasing or at the end of the day in that real, palpable context, where a client approaches someone knowing they're among the best in their field?
Vanja Blumenšajn: However much we may be trying to prove the opposite, festivals and awards are always in some way a subjective reflection of a single moment – sometimes the final result is affected by a good presentation, sometimes the mood of the jury members, sometimes it's something else… I remember works that I was very proud of that weren't that successful at festivals, and others that were not as dear to me that picked up awards. There's no absolute justice/truth here (is there in anything?). Especially in the case of D-Day, which by its particular way of selecting winners (through a jury of 200+ members) chose the way of democracy rather than elitism. For that very reason I see the festival as an opportunity for scoping out the scene, more than anything else, as a review of present production – and a chance for a general summary. It's interesting to see in one place what the scene has done, to comment, critique, compare… Generalizing, when you ask me about clients, I think they don't follow festivals enough, or the creative scene, which is a shame because it's the easiest (and most entertaining?) way to get informed and find out how individual creatives approach their work, think, create, to discover some common sensibility and often avoid unnecessary calls for submission and collaboration.
Have you ever had it happen that somebody hired you for a project because they saw you pick up an award?
Vanja Blumenšajn: Good question. I have no idea. I'd like to believe that I have. But really, what's important is that they approached me. Clients belong in two categories: those who understand the importance of creative communications and those others. Consequentially, there are those who follow and understand awards, while others see them as some vague proof of quality. What I have noticed is that clients sometimes allow me more than they dare because they see the results of my past projects and the responsibility I carry for the confidence they've given me.

Is the "Creative of the Year" title (some regional media even say creative of the decade) a burdensome label, does it create pressures in your work and are you afraid that people now view all you are doing with double the expectations?
Vanja Blumenšajn: Well… I'm sure people have higher expectations, which I'd maybe even be worried about if I weren't the strictest self-critic. Really, without any false humility, I never felt like "creative of the year". It's even a little pretentious of our field to own the term "creativity" in such a way, which is at the same time so fantastically employed in all the different areas of human activity. What I do believe in is that I have met few people as persistent and dedicated as myself. I'm trying to learn, push my own limits, care about the things I do – not (only) because of awards and money, but because it makes me genuinely happy that a new business in Vukovar will carry a name that I came up with or that one of the biggest regional companies will present its yearly report that was at some point just a sketch on my desk. If I can speak of any secret to success, I believe that would be the one. Motivation has to be a creation, not its consequences (awards, money…). That comes on its own. I know too many people in this field who forgot that and so by chasing the latter, they neglected the former. For that reason, I'm always rooting for honest, brave "producers" rather than corporate "re-producers".
How do you, as someone who is not a designer but often collaborates with designers who become a fundamental part of your work, view the local design scene, professionally and personally. Do you consume or buy local design?
Vanja Blumenšajn: One of the things about Señor that makes me infinitely happy is a chance to collaborate with new people. For the Brand New Year calendar we collaborated with 12 designers, the majority of whom we worked with for the first time. The biggest problem was how to select the 12. To this day I regret not having selected some of those I wish we did; from my namesake Cuculić, Kuna Zlatica… I don't know, perhaps we should have made a calendar with 52 pages. That's why we're already thinking about the Brand New Year 2015 calendar, which could place focus on products rather than businesses and collaboration with some new great people. As for the scene… It would seem to me that, just like with many other things (such as budgets), the size of the market is a very limiting factor. Specializing is almost impossible because authors are forced to dabble in different things. Imagine someone who decided to specialize in just one branch of the industry or just culture, music… Because of that it's even more important to appreciate those who manage to build their own distinctive style and who continually maintain their quality, but also to strive to get out of the national framework in order to expand the space for manoeuvring. I'll always give advantage to local design (which is again, due to small editions and the market, often in an unfavorable position compared to foreign design).
Recently you launched your own agency Señor with your colleague Iva Kaligarić, after many years at Imago. How did this need to go independent come about?
Vanja Blumenšajn: Imago was an important part of my professional growth and I'm happy that I learned everything there. I think I've gone through all the positions during my time there, from junior copywriter to the role of lead creative director who managed the entire creative department (copywriting, design, video..) right before I left the agency. Last year at idejaX we got the award for 'campaign of the year' for projects that I conceived and creatively directed, the Grand prix of the festival, and we were named 'agency of the year'. I think I can say with a clear conscience that I felt I achieved my goals and that I needed new challenges. The cooperation with Iva came about somewhat organically, as we share similar views on work. She's a genius with an unbelievable sense for analytical and strategic thinking and love of the creative, so we complement each other really well in our work. We believe that all communication needs analysis and strategy as its foundation, which then needs to be conveyed creatively. OK, not to idealize things, Iva is really difficult about food, so we often have a hard time deciding where to go for lunch. And she has a hard time admitting I'm the better driver.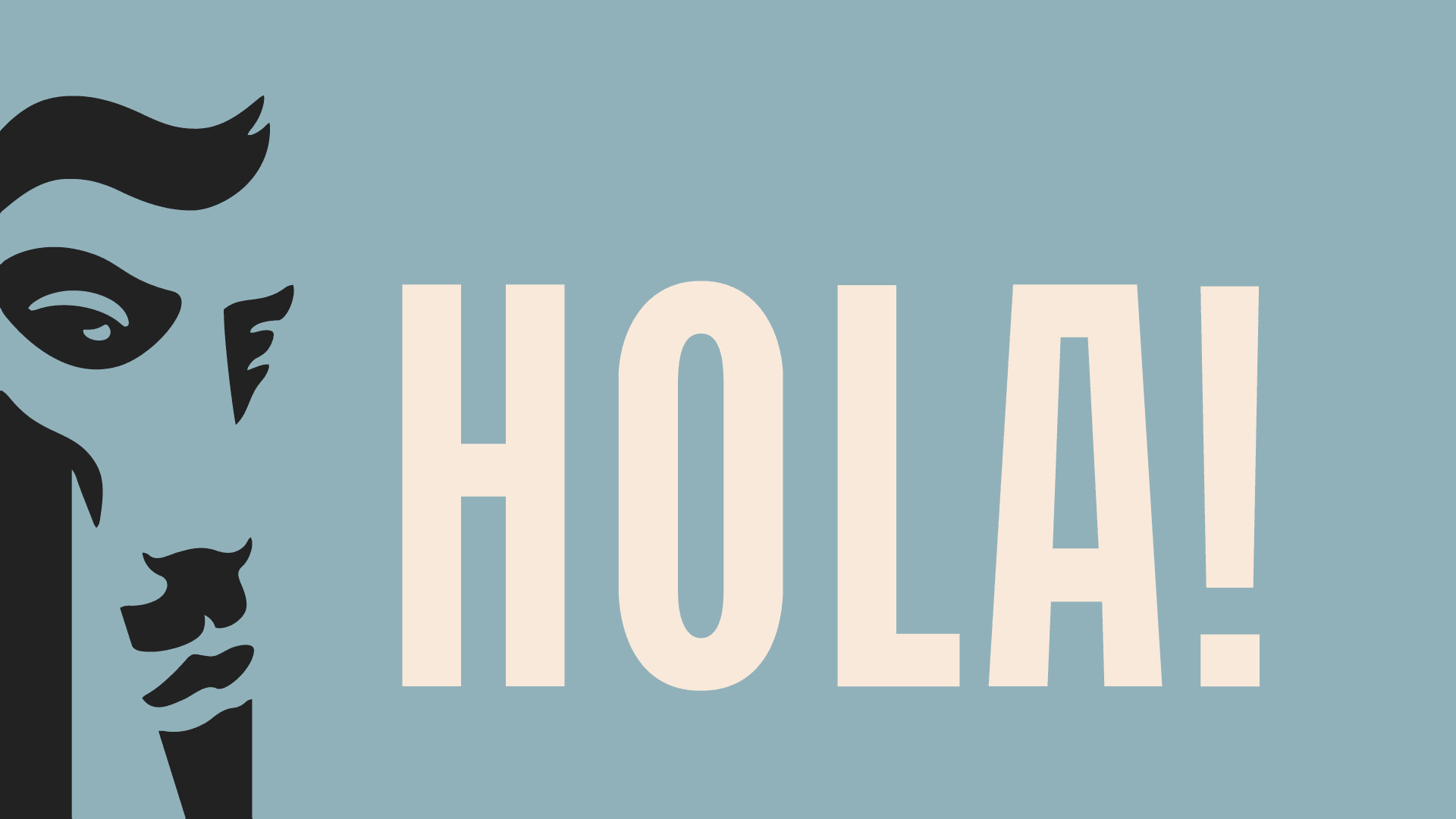 Is there a big difference in the way work is approached? Can you make any comparison after a relatively short period of running your own agency?
Vanja Blumenšajn: When we set out on our own it was clear that our field was in perhaps the most terrible state ever and that we had to look at things from a totally different angle. And I'm referring to all the aspects – from the organizational one to the way an agency approaches tasks and does its work. It's nearly impossible as part of such a small market to maintain a large agency without any compromises in quality. Smaller organizations, like Señor, which have the knowledge and know-how of a large agency but also the flexibility of a small system with a network of top creatives and professionals who are brought together on projects according to their personal affinities and abilities, can bring that much-needed freshness. An agency organized in such a way also changes the other side of the story – the way it creates solutions. It's logical that the danger of falling into the trap of routine becomes a lot smaller. I think it's important not to take ourselves too seriously – that type of attitude makes it impossible to take a critical distance that's needed for auto-correcting and progressing. And if you're asking about my personal satisfaction, I (almost) make it to yoga, I sleep more, I have dark circles under my eyes because of movie-watching rather than work emails.
During the process of leaving a big agency and starting your own, have you had thoughts of taking your career outside Croatia and how important are language and the region someone works in, especially in the field of copywriting and art direction?
Vanja Blumenšajn: Yes and no. I believe that top creatives can find their way anywhere and that they can turn their language/culture barriers to their own advantage. After working at a big agency, it seemed to me that I owed myself a new beginning; all the other offers seemed a touch too similar to what I left behind. New times are coming, the old patterns have been worn out… I wanted to turn towards new, more flexible ways to work.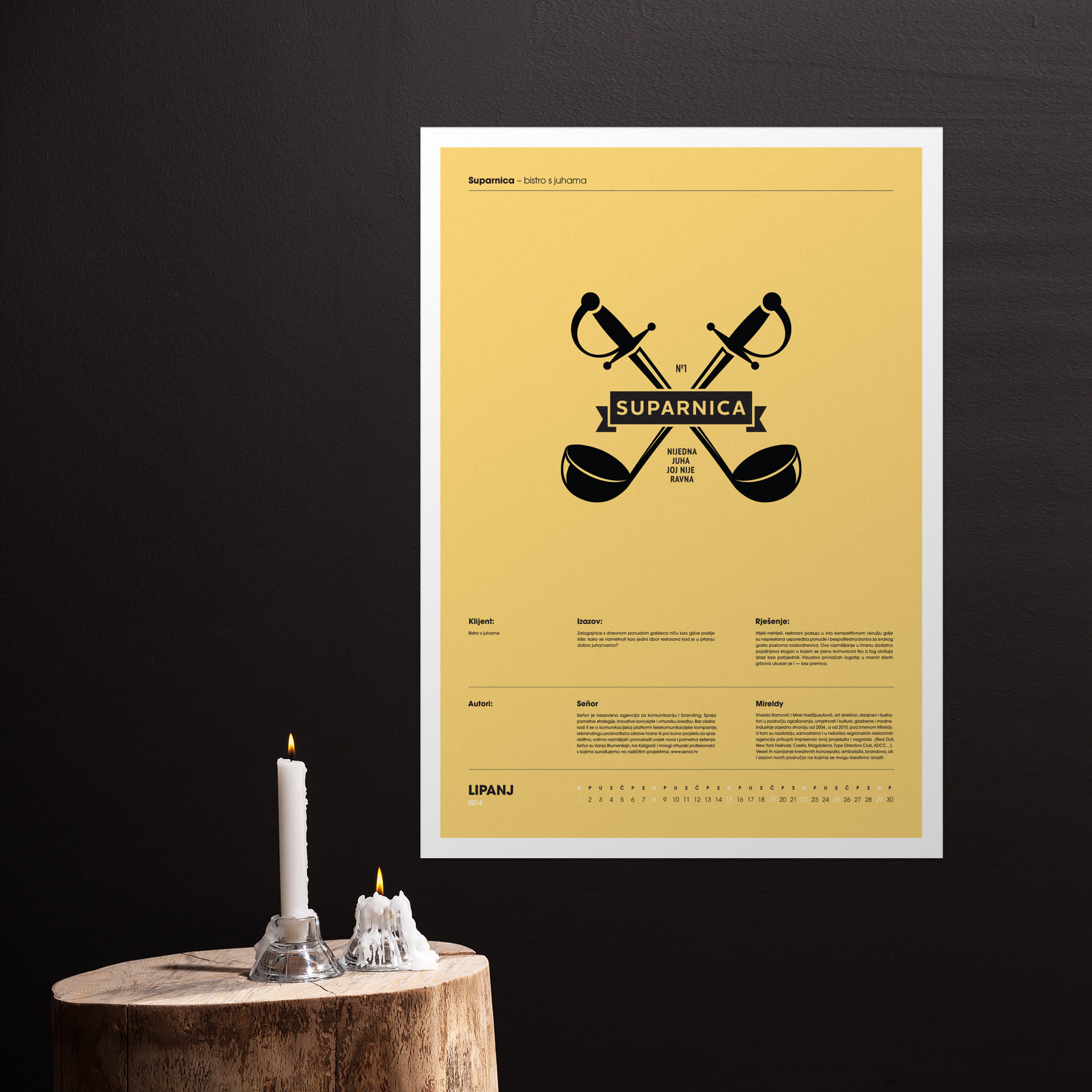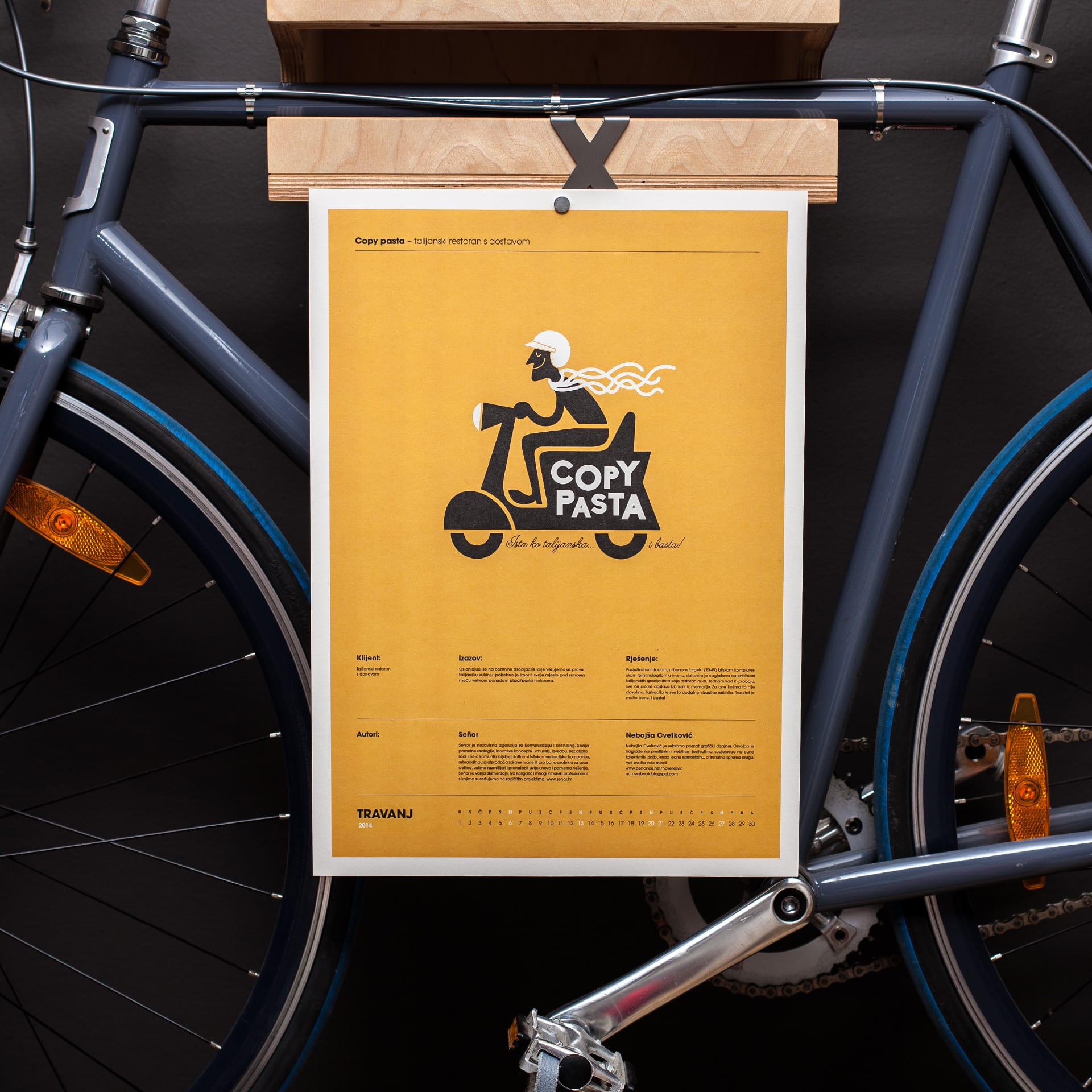 Your, let's call it launch project, 'Brand New Year' got very good feedback on the internet. You offered the names, brands and identities you crafted to new businesses and companies as part of a public competition. How did that project do, what were the reactions, are their any visible results and has the Don Računko accounting firm opened yet?

Vanja Blumenšajn: The idea behind the Brand New Year calendar was to show the importance of branding and creative thinking in business. It seems to me that in these times of recession, business people aren't quite aware of that, while some small entrepreneurs perhaps don't even know whom to turn to and where to begin. We offered the 12 names, slogans and logos in partnership with the Croatian employment service and the Obrtnik&partner program and I'm pleased to be able to say that the first three (including my favorite, Don Računko) have already found homes, in Vukovar, Požega and Rijeka, while the others are in process and I believe will soon be gracing the business cards of their proud owners. The project was realized in cooperation with 12 distinguished designers and studios; I have to list them all, as I'm super grateful they agreed to be part of this project and helped make it this beautiful. They are Jagoda Jurišić, Nebojša Cvetković, Superstudio 29, Mireldy, ĐukićPavlović, Manasteriotti∞Marić, Hamper, Vedran Klemens, Šesnić&Turković, Izvorka Jurić, Boubish i Pero Vojković, with special thanks to Imelda. I love these types of projects which, in addition to allowing creative freedom and enabling collaboration with such beautiful, creative people, have some kind of wider use for the community and concrete results. I'm not interested in "l'artpourl'art-ism". I know we're on the right path because of emails arriving nearly everyday, from people sending their reactions, offers of collaboration, wishes to work with us. Even after this interview, I'd love to hear from copywriters, designers and all those interested in collaborating (discretion guaranteed) or those who would like Señor's help in some project of their own that we can participate in. As long as it's smart and entertaining… or pays lots and lots of money.
Many perhaps don't know that you're one of the instigators of "Good Flea Market," which is one of my favorite humanitarian projects. How did it come about?
Vanja Blumenšajn: Similarly to some of the other projects we talked about. I love to think of things that in addition to being creative have some utilitarian function. In the flood of all sorts of flea markets, it became obvious there was an audience interested in this type of an exchange. It's also clear that no-profits have a need for funds to make their projects happen, and that people have the need to help, they just need to be encouraged a little. When you throw that info into your own software, all you need is a small creative twist and you've got Good Flea Market – an online platform that has the money from donated objects deposited into a non-profit association's account rather than the vendor's. Simple and useful. Vizkultura and Good Flea Market have been collaborating for a while, and I hope that readers will at least look it up at www.dobribuvljak.com or www.facebook.com/buvljak
How is it going with the Flea Market, does it have a life of its own, and can you give us some digits, like the $$$ donated via the Flea Market?
Vanja Blumenšajn: You'll have to ask Boško. The Good Flea Market has been diligently operating for over a year already, it has its own rhythm and has collected over 60,000kn for more than 120 associations. The figures may not seem that impressive, but what makes me happy is that they're achieved from nothing else but a little good will. Slightly megalomaniacally, I really believe in this idea even outside the borders of Croatia, and so hope that in partnership with some of the big players we'll be able to spread it and use its full potential.
I can't help but ask you about your occasional collaboration with a favorite magazine of mine, Mrvica. How did that cooperation come about, how important is it to you and is cooking only a hobby or do you, like many others I know, dream of opening your own restaurant one day?
Vanja Blumenšajn: What is cooking but creation… and the best one at that – edible. The collaboration with Mrvica was interesting to me for a variety of reasons (on top of an opportunity to hang out more with Super Željka). The concept behind Mrvica is not about beautiful photos and recipes, but a need to be conscious of the food we consume, the impact that our decisions have on us and also our environment, economy, society. Food today is a really political question, starting with whether you eat locally or imported, just steaks or head-to-toe innards, and all the way to whether you tolerate brands such as Barilla and Velebitsko (beer). Our collaboration gave me an opportunity to write creatively outside the framework of advertising, think about topics that I'm interested in and of course, learn new things about cooking. Where else would I learn to prepare x variety of aspic or grow my own wild yeast. For those who are interested in what that looks like, I suggest they check out the link or subscribe to Mrvica.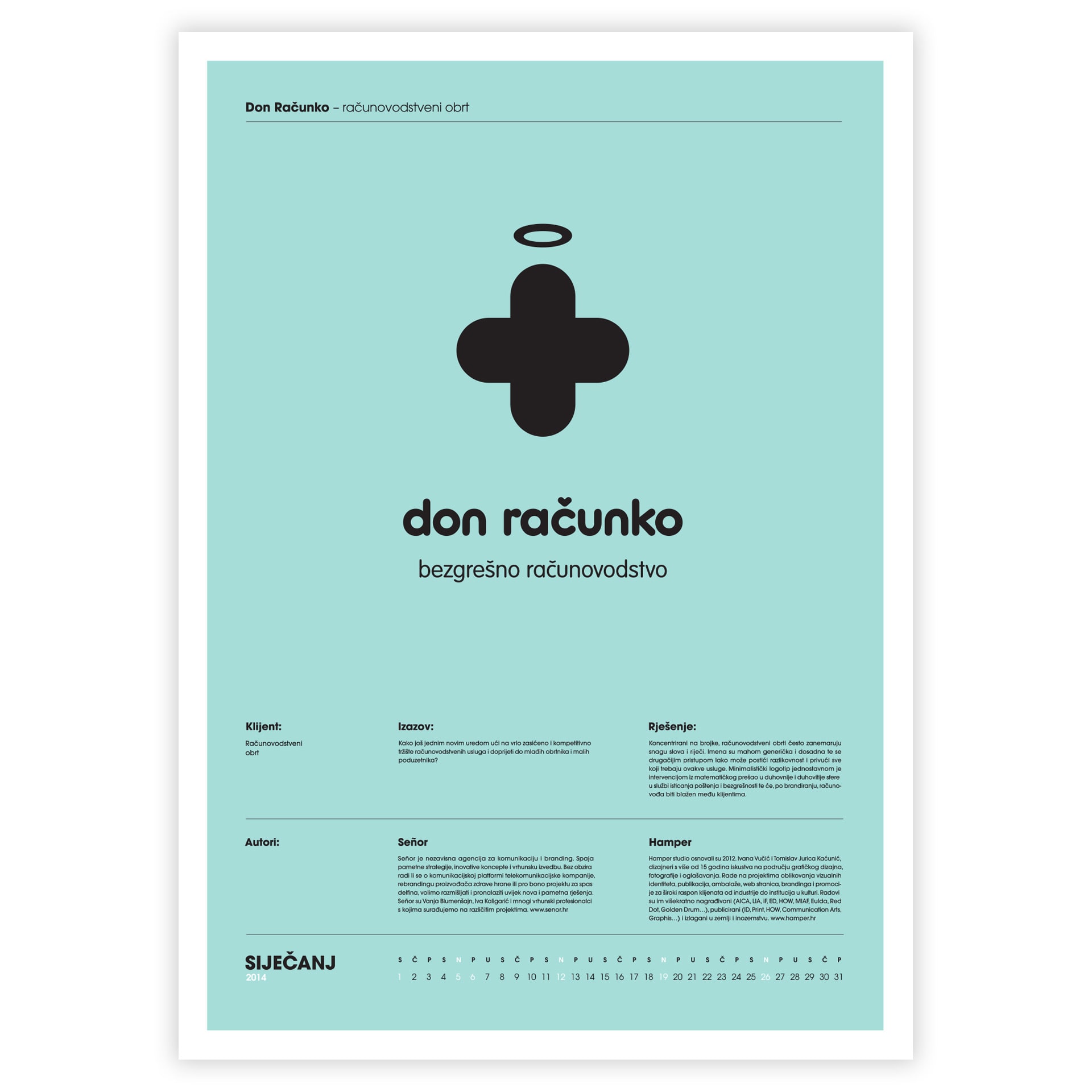 Let's jump from cooking to "what's cooking" at Señor, what's new that you're doing at the agency… Do you have a project that will sweep us off our feet and which award categories – admit! – are you aiming for at this year's D-Day?
Vanja Blumenšajn: We're just wrapping up a campaign for a new web portal, which we also named and branded. That'll be fun. We love to create new things from the get-go, because that gives us carte blanche to set them and turn them in the direction we think they should take. We want to do creative things that go beyond pure advertising – things that people will want to watch, read, participate in – that's a new communications paradigm in which advertising doesn't necessarily need to be a dirty word. Perhaps we're still in the honeymoon phase but it makes me happy that right from the start we're getting interesting and smart projects that we want to invest our time and knowledge in, and super-pleasant collaboration with clients – I don't see any reason why it shouldn't continue that way. You're really insisting on D-Day. After all, I'm a copywriter at heart, that's the category dearest to me. I'm not aiming for it, but all who know me know that I'll self-critically select whatever we're really satisfied with and submit that. Good ideas have the power to move people; I'm certain that if we really succeeded in creating some, proper recognition won't be lacking.
And for the end, when will you and Señor make us a poster for PLAKATIRANJE?
Vanja Blumenšajn: Soon.
This interview was originally published by Vizkultura.