Marketing Mreža started a series of texts called THE BEST OF 2019. where prominent creative directors from Serbia and the Balkan region single out their best local, regional and global campaigns from the year before. Take a look which campaigns Señor's Head of Creative Jurica Ćorluka favoured as the best in 2019.
SANDY HOOK PROMISE - BACK TO SCHOOL ESSENTIALS
Fantastic idea with an even better execution. A theme that is polarising America is shown in a way that leaves no one indifferent. Clever and shocking (hopefully as efficient).
OLD SPICE - SWEAT DEFENSE
Another Old Spice campaign which shows how advertising that doesn't take itself too seriously can be pretty entertaining. I can be a sucker for "dumb" jokes that turn into absurdly "not so dumb" ones when taken to the next level, but this one nonsensically thrilled me.
BURGER KING - A WHOPPER OF A SECRET
The way that Burger King constantly trolls its biggest competitor and puts them on the defensive has been a fun watch over the last years, professional and customer wise. I am repeatedly excited to see McDonalds' reaction to Burger King's provocations and sadly to say - we are yet to see a good comeback.
COCA COLA
When your brand is so strong and the product so well known that you don't even need an audio to remind a customer of its sound characteristics, then this kind of campaign is achievable. Simple yet effective, it provokes an instant desire for the the product consummation.

SDSS - WHAT IS LIKE TO BE A SERBIAN IN CROATIA?
Regarding regional campaigns, I would like to single out a political one. For the 2019. European Parliament election in Croatia, the SDSS (a Serbian party) provoked Croat ultranationalist with cyrillic billboards in such way that the right wingers themselves expressively demonstrated the real status of Serbs in Croatia. These desecrated billboards were certainly a great motivation for Serbs to vote (probably not an intention of the "graffiti masters").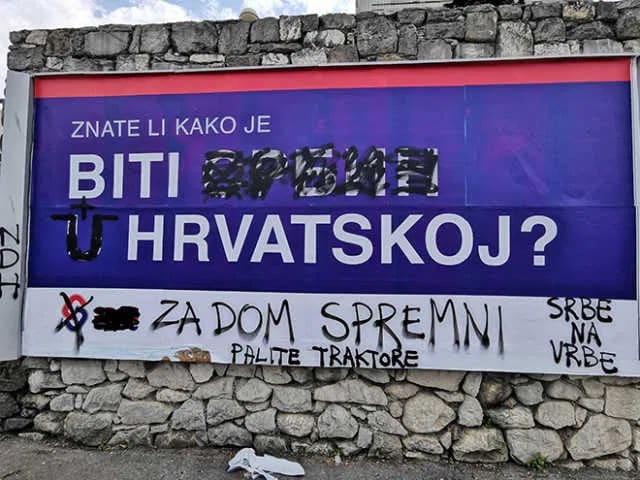 How can advertising change the world?
Wouldn' it be great if we lived in a world which doesn't need advertising to change it? In a world where the political elites and mega corporations are mindful and willing enough to create a better place for all of us.
So maybe advertising should change itself and instead of the dominating trend of "good cause" campaigns (sometimes done with questionable motivation, frequently done with questionable efficiency, and very often done just as a preach to the choir) it could focus on the thing that it does the best - a smart, funny and (for a brand/target) relevant communication.
The text was originally published on marketingmreza.rs

FOUR FINALISTS AT ZAGREB DESIGN WEEK!
At this year's tenth edition of Zagreb Design Week, four works from Señor found their place among the finalists in the category of graphic design. Our finalists are: Indirekt, L'ortolano, FOREO and Mental hygiene. We've done our part and now we're impatiently waiting for the announcement of the winners! See you from September 26th to October 1st at the Zagreb Fair!
[Read more]
JURE IN THE KAKTUS JURY!
As tradition goes, Señor is once again part of the regional jury of the Kaktus festival in Serbia. At this year's ninth edition, the role of strict but fair expert is taken over by our Head of Creative Jure who will give his verdict on the best (and almost the best) campaigns and projects from the region on November 1st and 2nd in Belgrade.
[Read more]