Smart shoppers are a special sort. The ones that compare each mobile tariff or plan, and pay close attention to the fine print, before making their choice. Among those, there are many that love to use their gift of gab. Just give them a chance and they'll chit-chat, rant, holler, schmooze... and, as we say here, grind their hearts out.
TALK IS CHEAP
A meg here, a gig there, stream a little of this, download a little of that... blink twice and you've spent all your bytes. The Internet is the reigning superstar of the telecommunication industry and each provider is using this stardom to shed some light on themselves. But, in this fight for the best byte-package, one thing was left in the shadows - talking. Smart shoppers, many of whom are power-talkers that live for those extra minutes, are taking notice. Voice messages are great when you want a throwback to the days of walkie-talkies, but meaningful conversation takes effort and a direct line to the other person. That's why Bonbon decided to reward their current and future customers with extra minutes until the end of the year, and we decided to showcase this generous offer in a simple and endearing way.
"Bla bla bla bla bla bla bla bla bla bla bla bla bla bla bla bla bla bla..." - A smart-talker on Bonbon
Current customers are getting double the minutes no matter which tariff they have. You used to have 500 minutes? Now, you'll have 1000. Had 1000 minutes already? Check again, it's 2000 minutes now. You get the point. No extra charges. No contracts needed. No minimum spend requirement. Sounds too good to be true? Well, that's why it's a good idea to assure current customers they're not seeing double - they're getting it!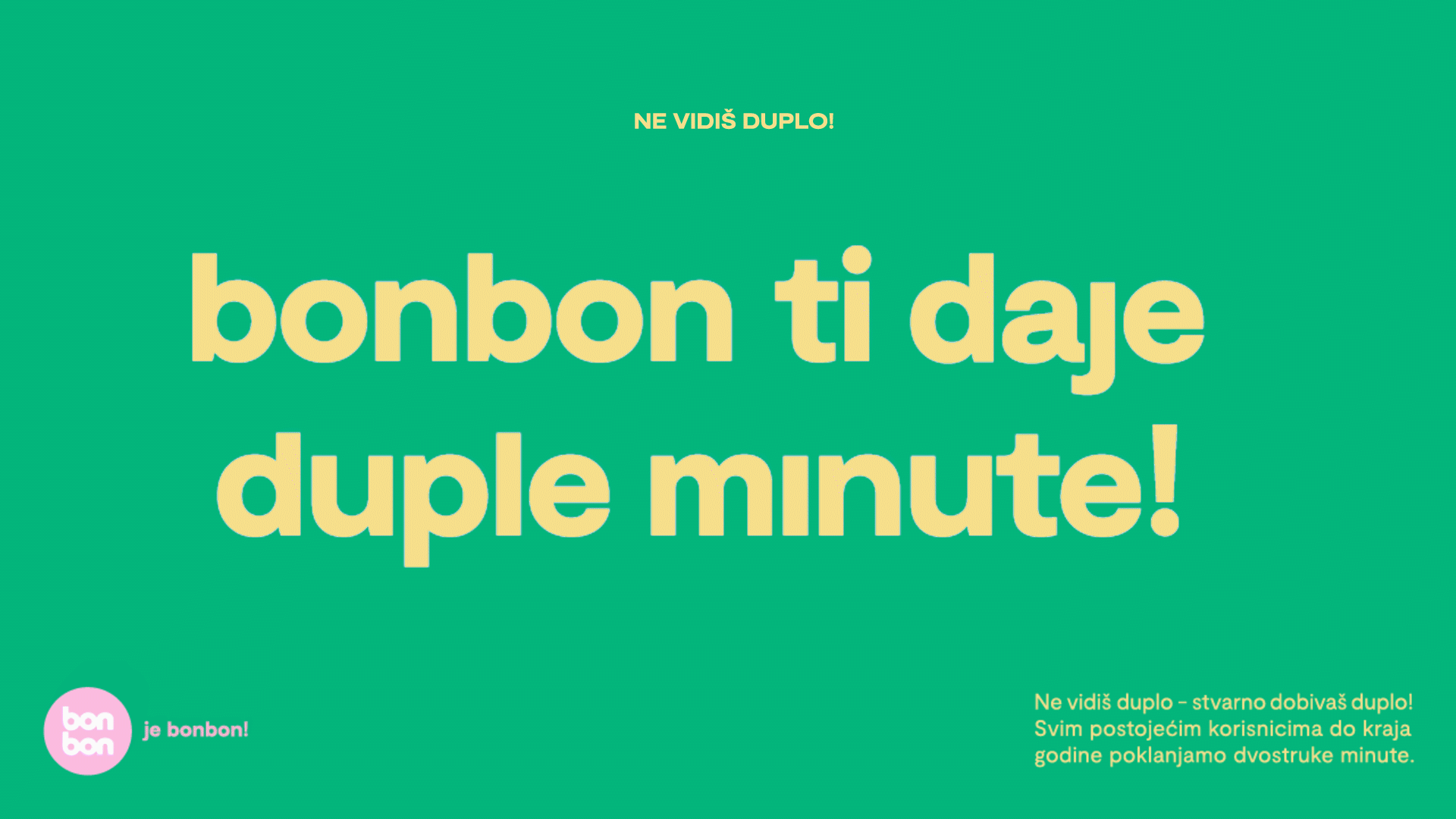 TALK THAT TALK
We didn't forget the new customers either. They're in for a special treat, with free calls until the end of the year - no matter which tariff they choose! Just as the coffee grinder, this campaign does a 360, so across all of our materials we remind viewers of the TVC - simple communication leaves little space for misunderstandings: if you chit-chat more than that - you need free minutes!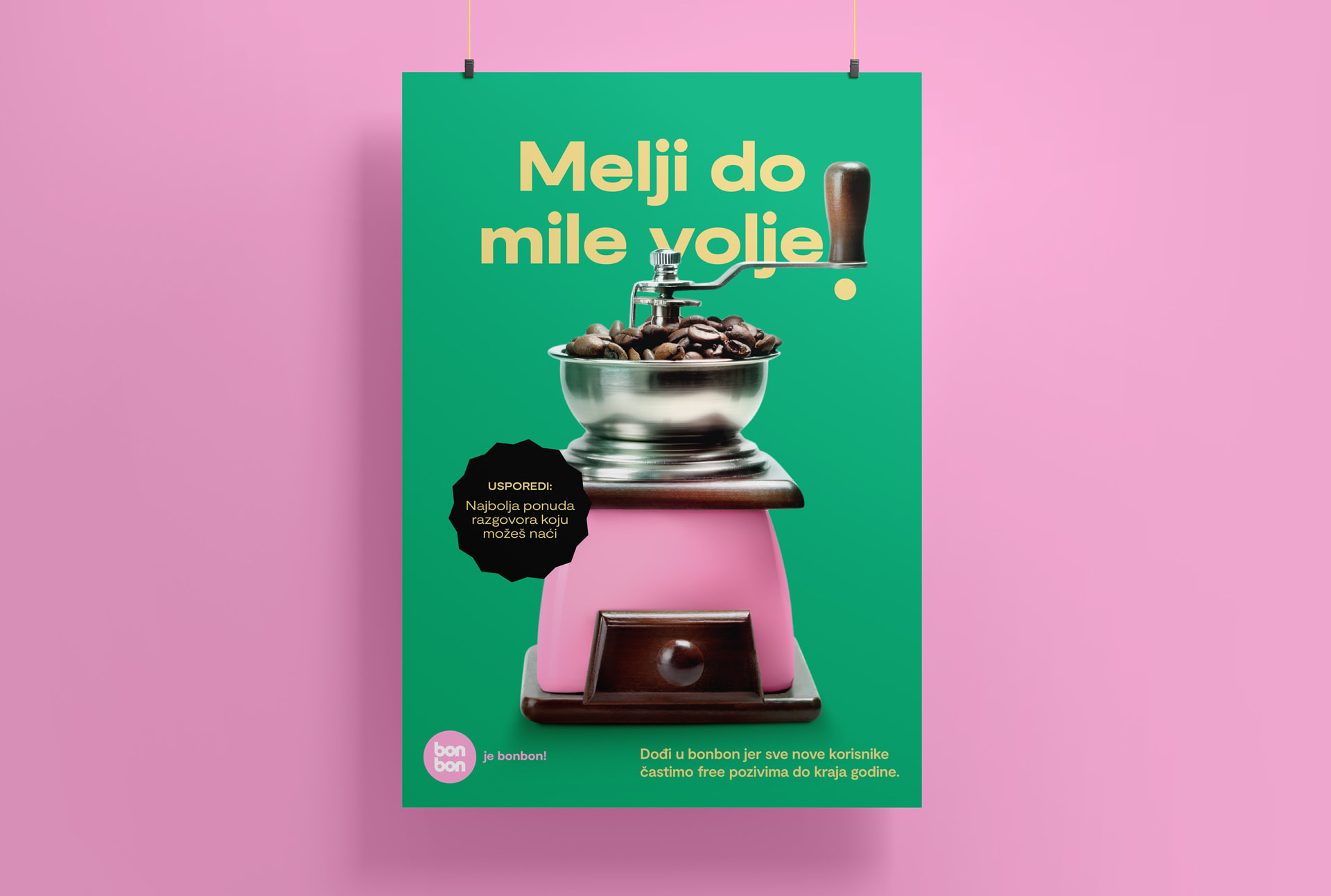 Throughout the digital channels, we shared this concept for the sake of exposure. Chat away, you smooth talker!
Credits
Señor
Vanja Blumenšajn ~ Very creative director, copywriter | Jurica Ćorluka ~ Head of creative, copywriter | Vanja Luetić ~ Senior copywriter | Tomislav Fabijanić ~ Head of design | Mišel Kovačić ~ Designer | Dora Kasun ~ Designer | Danijela Maričević ~ Head of account | Ana Šutić Renić ~ Account director
Associates
Marin Balaić ~ Animator
Hrvatski Telekom
Diego Perez-Tenessa ~ Director of marketing for residential mobile users | Anja Uzelac ~ Communications manager for bonbon | Branka Bajt ~ Executive brand director | Krešo Šach ~ Brand manager