How to reach customers in an interesting way without jamming their mailbox with spam such as flyers and insertations? Today, everything can be used as a medium and therefore the most important thing is - the idea!
MAGIC BULLETIN BOARD
All real TV and movie junkies see plot twists everywhere - at least this was the insight of the campaign "Iskon.TV free for half a year". We decided to communicate the availability of this offer in certain neighbourhoods on an unusual (and unpaid) medium - bulletin boards in the building hallways.
Intriguing notes were pinned, turning usual quibbles between neighbours into crime shows and soap operas. Due to well-known neighbourhood curiosity, they were impossible to simply ignore.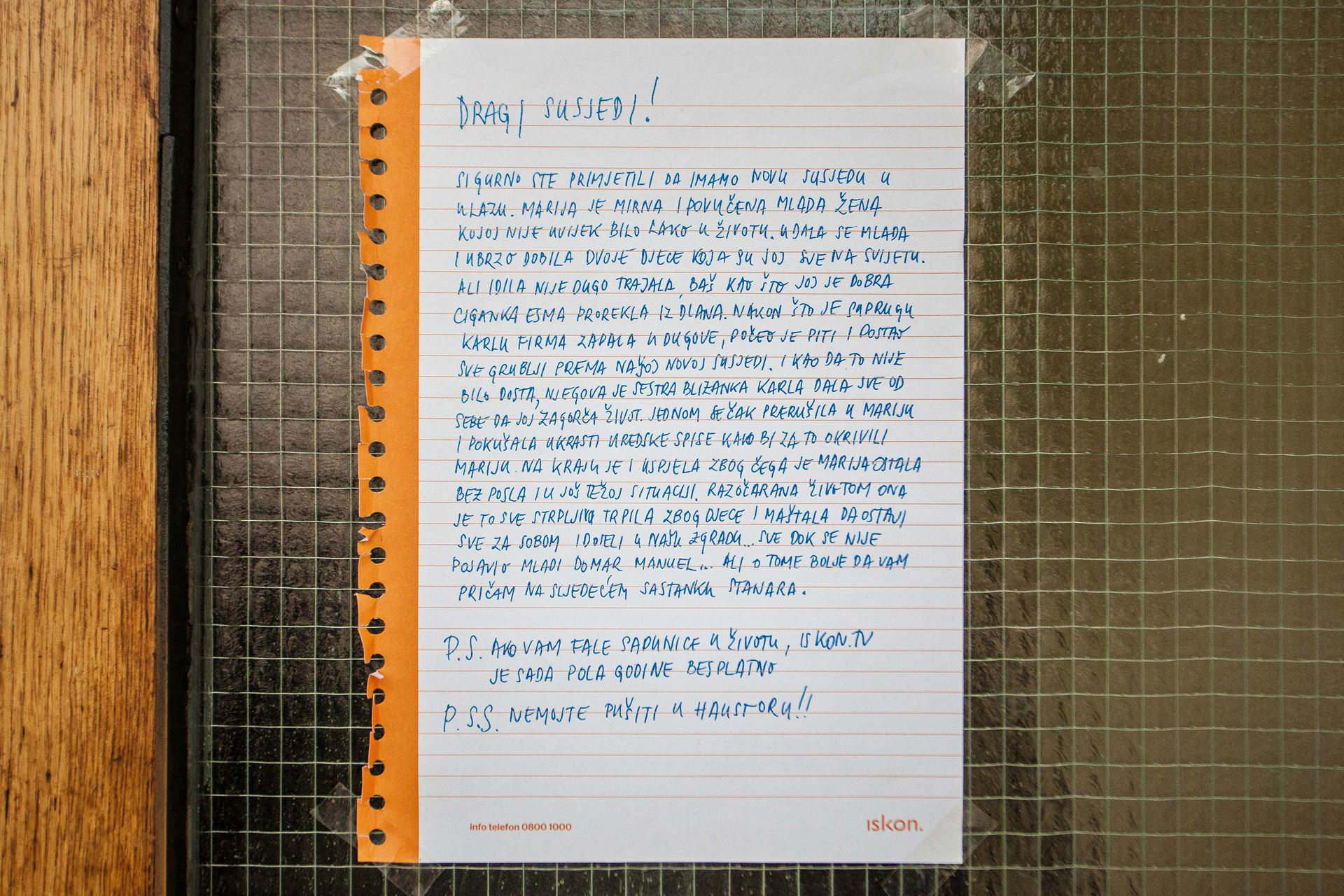 Dear neighbours,
You must have noticed we have a new neighbour in the building. Maria is a quiet and modest young woman who's obviously been through a lot. She married young and soon became a mother of two, her children always being the most important things in her life. But the honeymoon didn't last for long, just like the fortune teller Esma predicted years ago. After her husband Carlos got into serious debt, he turned to alcohol and gambling. Slowly but surely he started turning into a tyrant, getting more aggressive day by day. And as if that wasn't enough, his twin sister Carla made a tremendous effort to make her life even more miserable. She went so far as to disguise herself into Maria and steal some office records to get Maria into trouble. Her scheme was successful and Maria was fired, hitting rock-bottom in her ill-fated life. Even though she struggled, poor Maria patiently endured it all because of the children. She kept dreaming of a day when she will leave it all behind and get a new opportunity, a new start and a home in our building… but that was before she met a young janitor named Manuel… But, maybe it's better if I tell you all about it at the next tenants' meeting.
P.S. If you lack soap operas in your life, Iskon.TV is now free for half a year.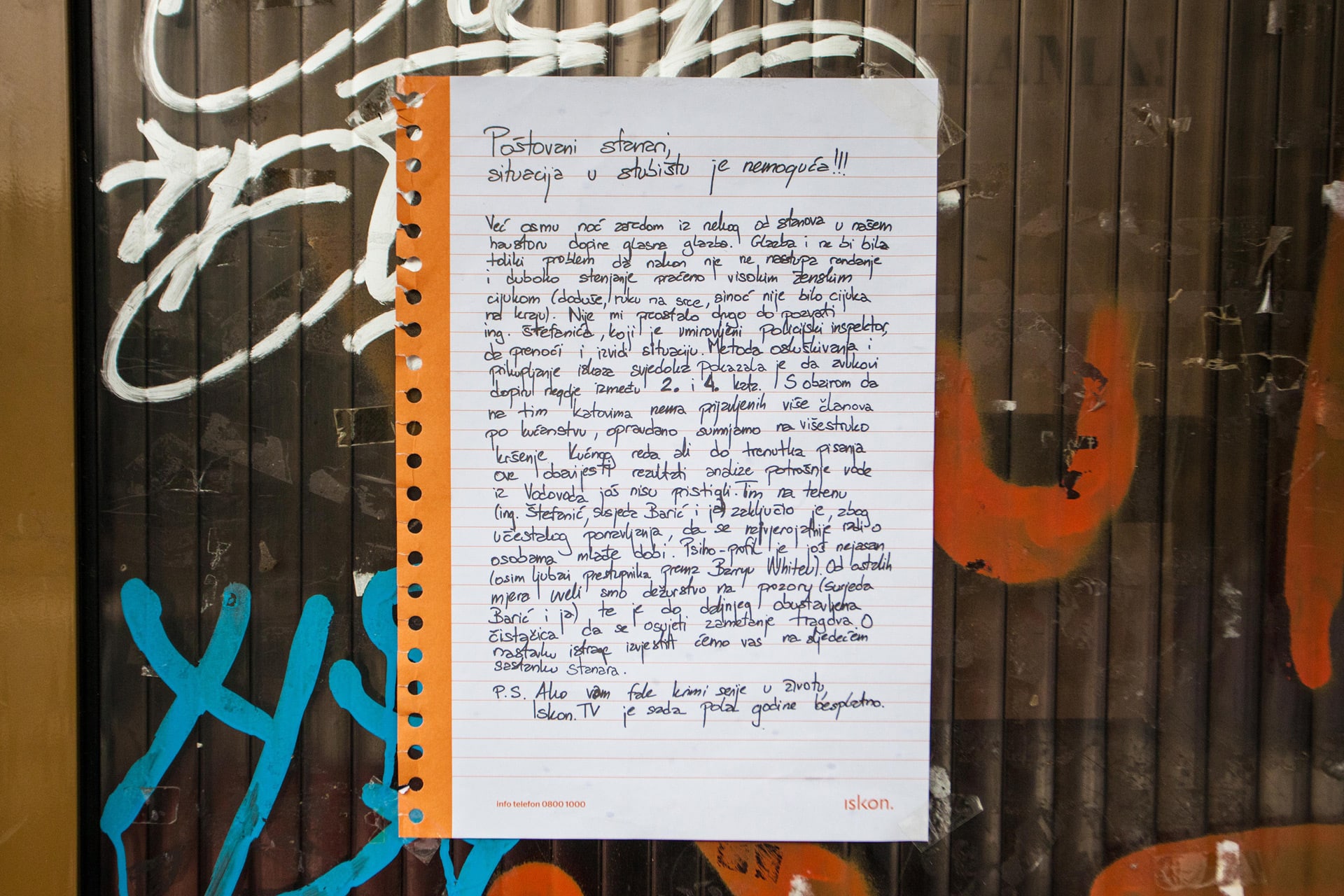 Dear neighbours,
the situation in this building is becoming unbearable. We're being tortured by very loud music from one of the apartments for eight consecutive nights. The music itself wouldn't be that much of a problem if it wasn't being followed by moaning and groaning, usually ending in a loud female squeal (though, truth be told, there was no squeal last night). There was not much to do than to call an old friend of mine, Mr Stevenson, who is a retired police detective, to spend the night and observe the aforementioned situation. The method of listening and collecting witness testimonies showed that the sounds are coming from somewhere between the 2nd and 4th floor. Given that there are only single-person households listed on those floors, there are reasonable grounds for suspecting multiple violations of the House Code, but the results of the water consumption analysis and the required evidence from the Water utility have yet to be received. A team on the field (Mr Stevenson, neighbour Bremer and I) has concluded, due to frequent repetitions, that the suspects are most likely people of a younger age. The behavioural profile is still unclear (apart from the offender's appreciation towards Barry White and Lionel Richie). Regarding other measures, we introduced daily window observations (neighbour Bremer and myself) and the cleaning lady was temporarily suspended to prevent any contamination of the evidence. We will inform you about the development of the ongoing investigation at the next tenants' meeting.
P.S. If you miss crime-shows in your life, Iskon.TV is now free for half a year.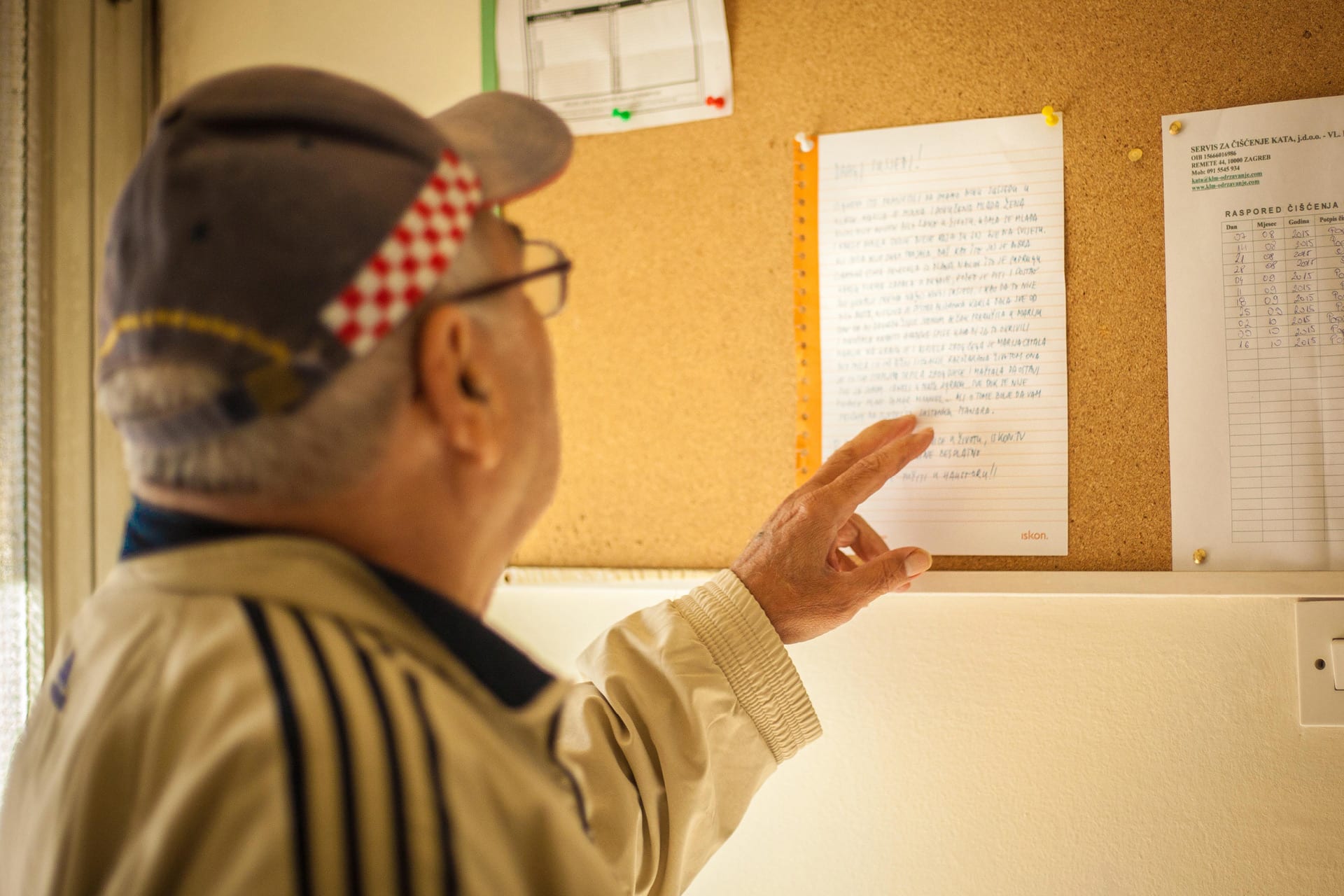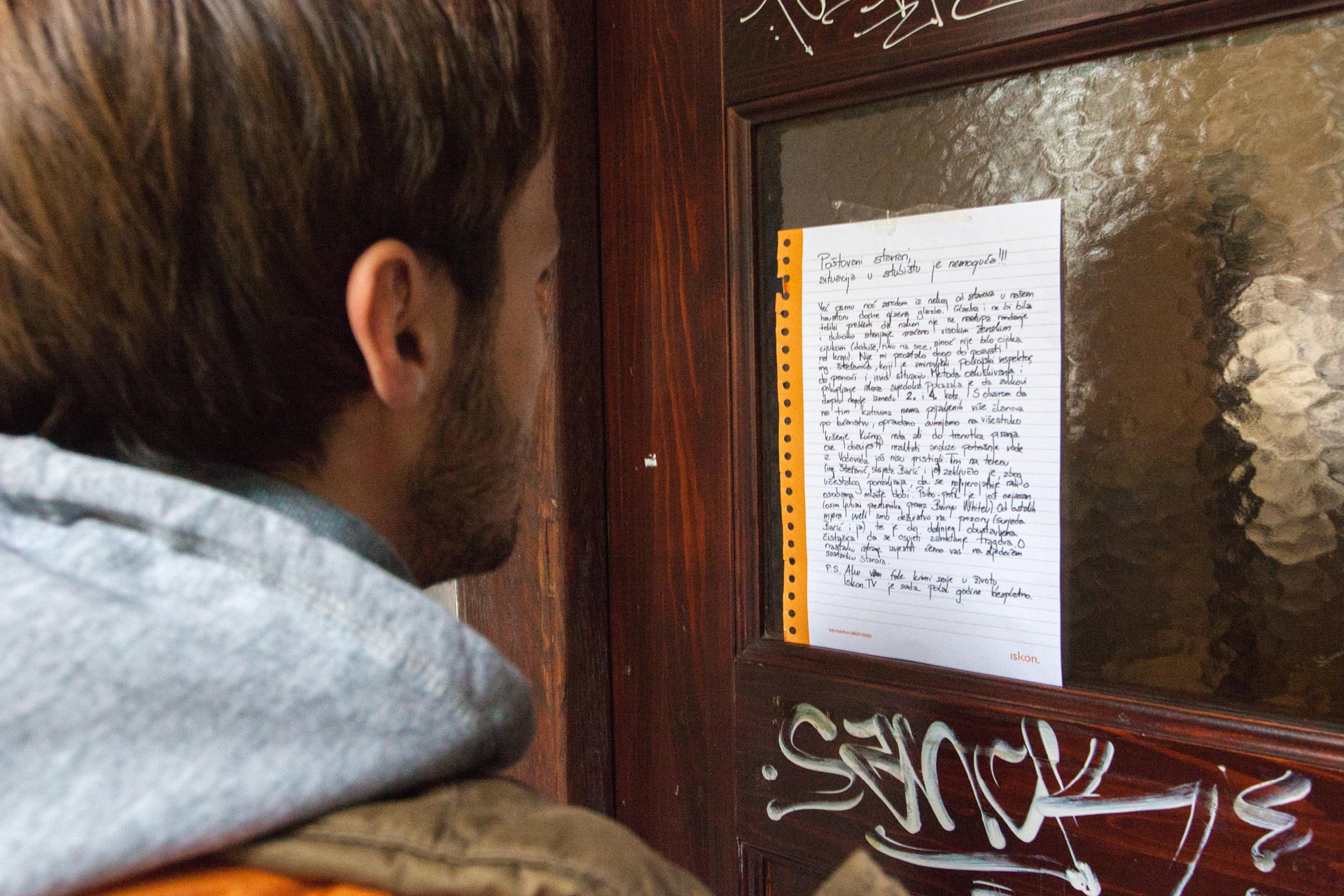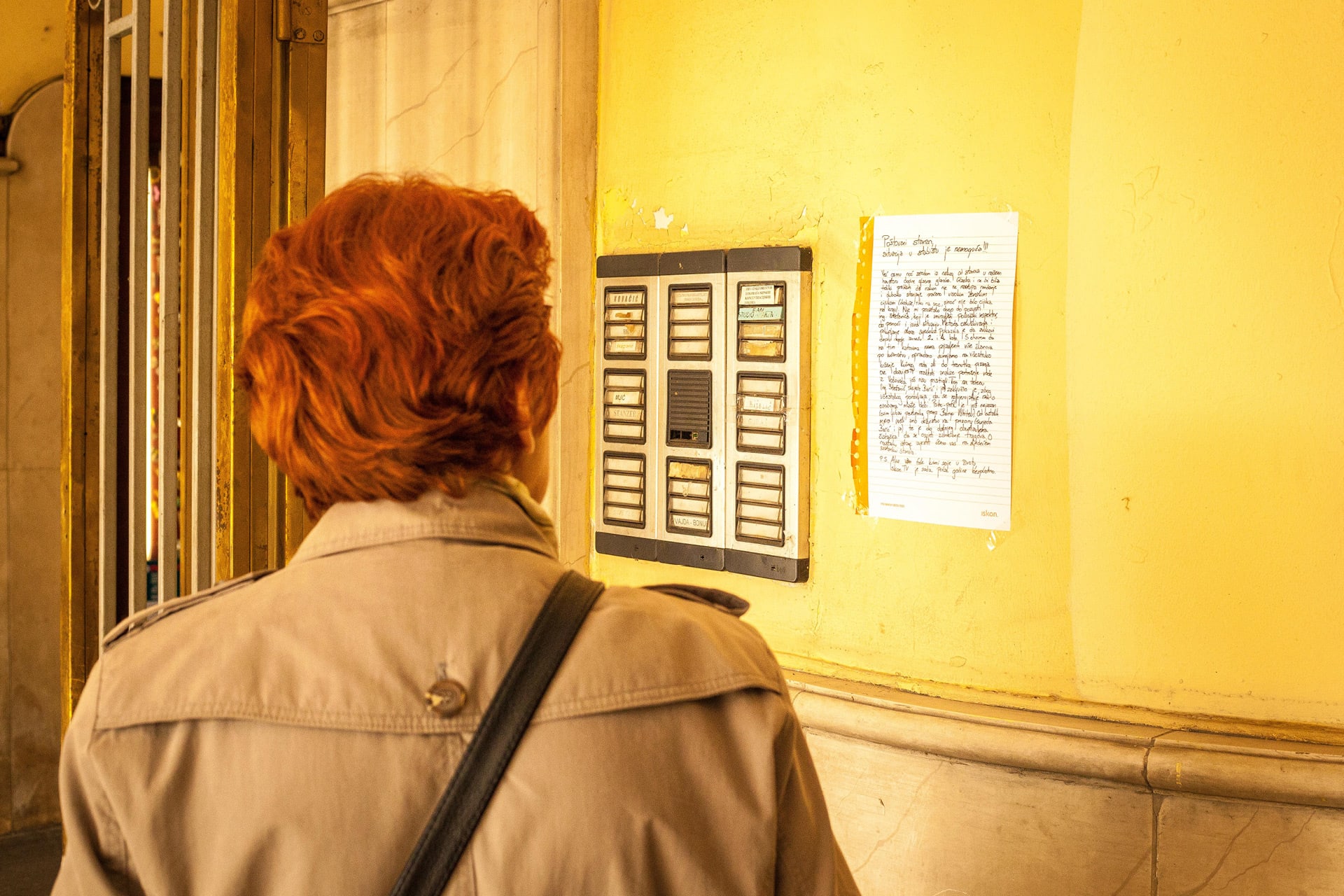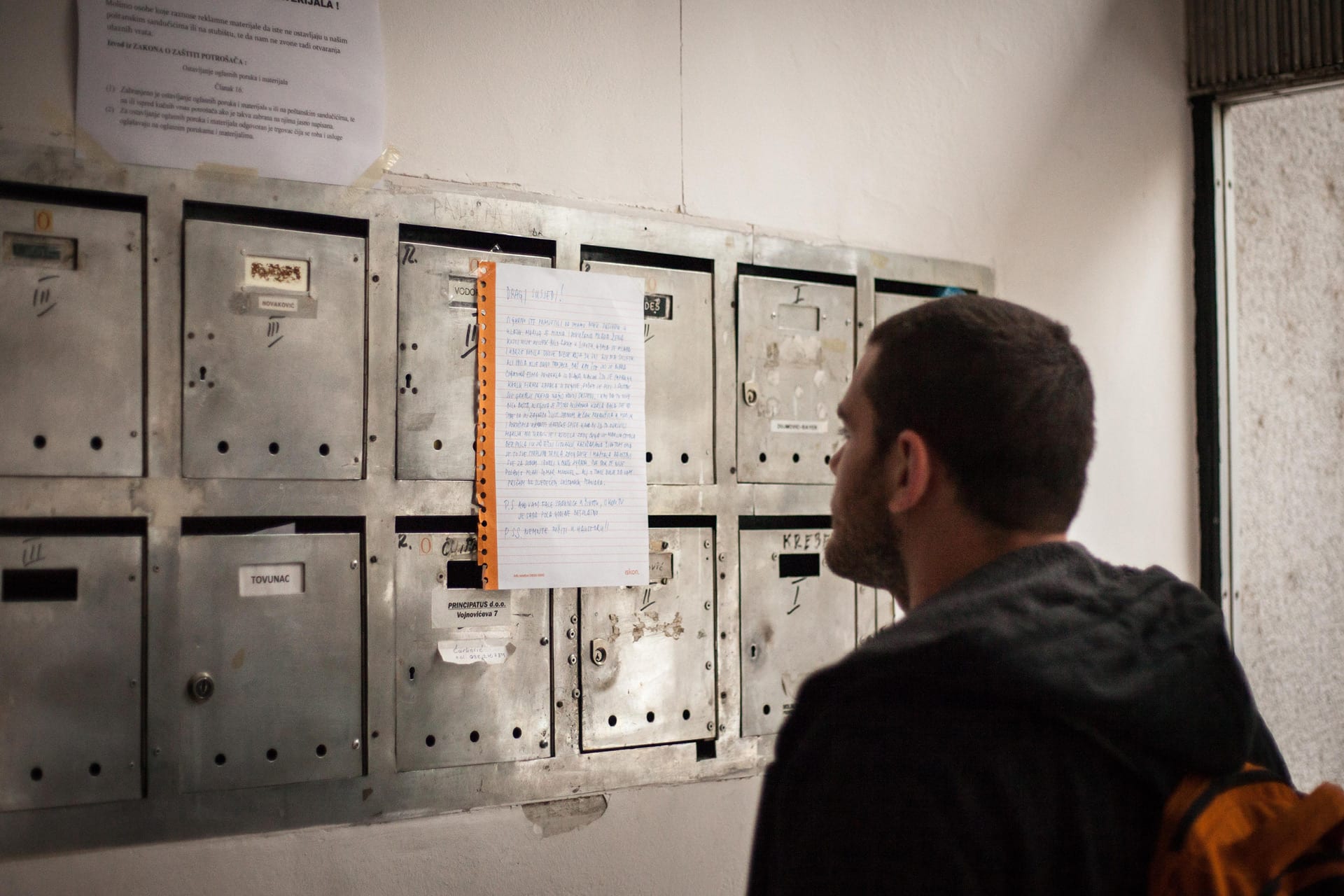 Due to well-known neighbourhood curiosity, they were impossible to simply ignore.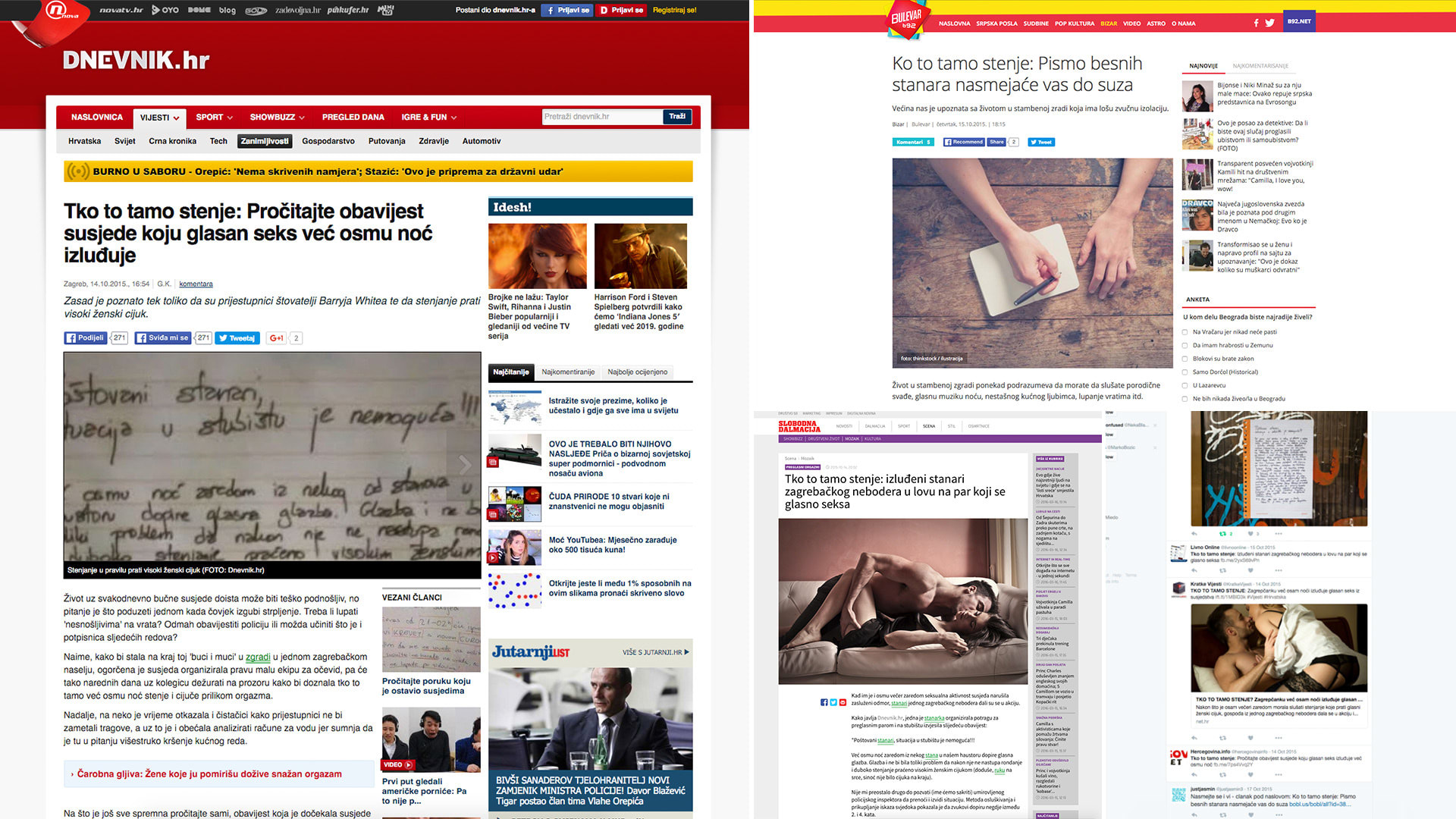 Credits
Señor
Vanja Blumenšajn ~ Very Creative Director, Copywriter, Typographer | Iva Kaligarić ~ Strategic Director | Nina Trumbić ~ Account Executive, Typographer
Associates
Damjan Denona ~ Project Photographer
ISKON
Iva Pregernik Jungić ~ Marketing Communications Director | Tajana Čonka ~ Marketing Communications Specialist | Iva Vukšić ~ Public Relations and Sponsorships manager | Lovorka Prtenjak ~ Marketing Communications Specialist | Mateo Svećnjak ~ Event, Sponsorship and Promotions Coordinator | Krešimir Madunović ~ President of the Board