Croatian companies often name their brands by merging a couple of words into some incomprehensible term, the words most often being of Latin, Ancient Greek or Aramaic origin. Next to a shelf with those brands there should be a dictionary so the customer could understand what the brand is all about.
PLENTY OF TINY FISH IN THE SEA
The vending machine market is a mess - there's 18 thousand of them in Croatia, but it's not the big brands who own them. The ownership is scattered among thousands of small businesses, primarily repairmen, each having a few (obsolete) machines, relatively poor produce, and low-quality cheap beverages. Franck recognized that it was time for the market leader to take part in this (potentially) profitable venture. How to get noticed in such a chaotic market? With quality, but also with great branding, a cool app, and great service.
A NAME THAT WILL SWEEP YOU OFF YOUR FEET
In the beginning Franck vending machines will offer just coffee and tea, but the offer will soon expand to sandwiches, snacks, and other drinks... What's common to all the products is the way it is consumed (on the go) and their quality (they outclass the competition). Therefore, the task wasn't easy; when we started to think about the name, we were mostly guided by those two things, but also by the fact that the brand name should sound digital and modern. These aren't some outdated brown vending machines in waiting rooms and train stations, it's a new digital brand. So we named it - snogoo!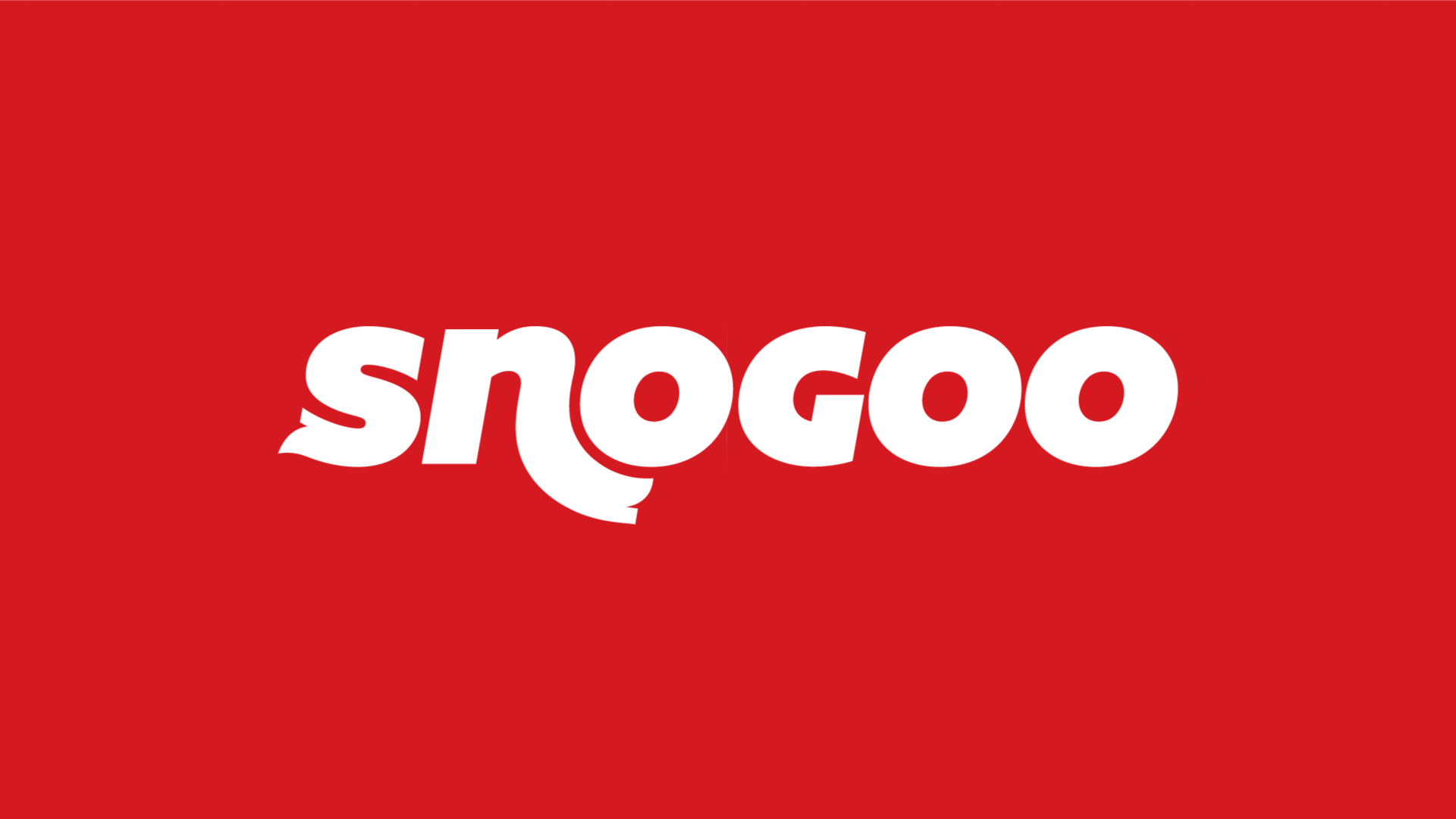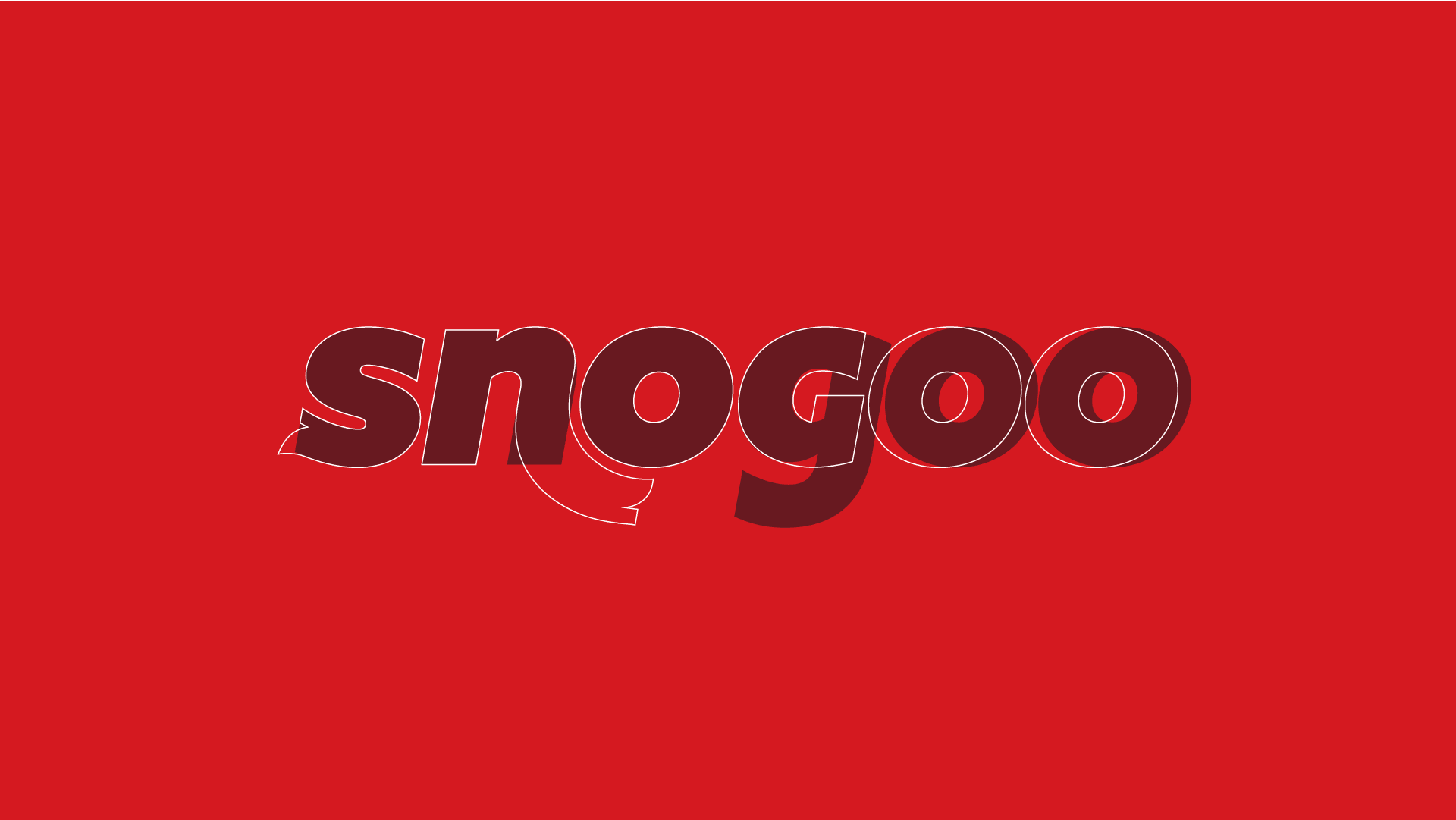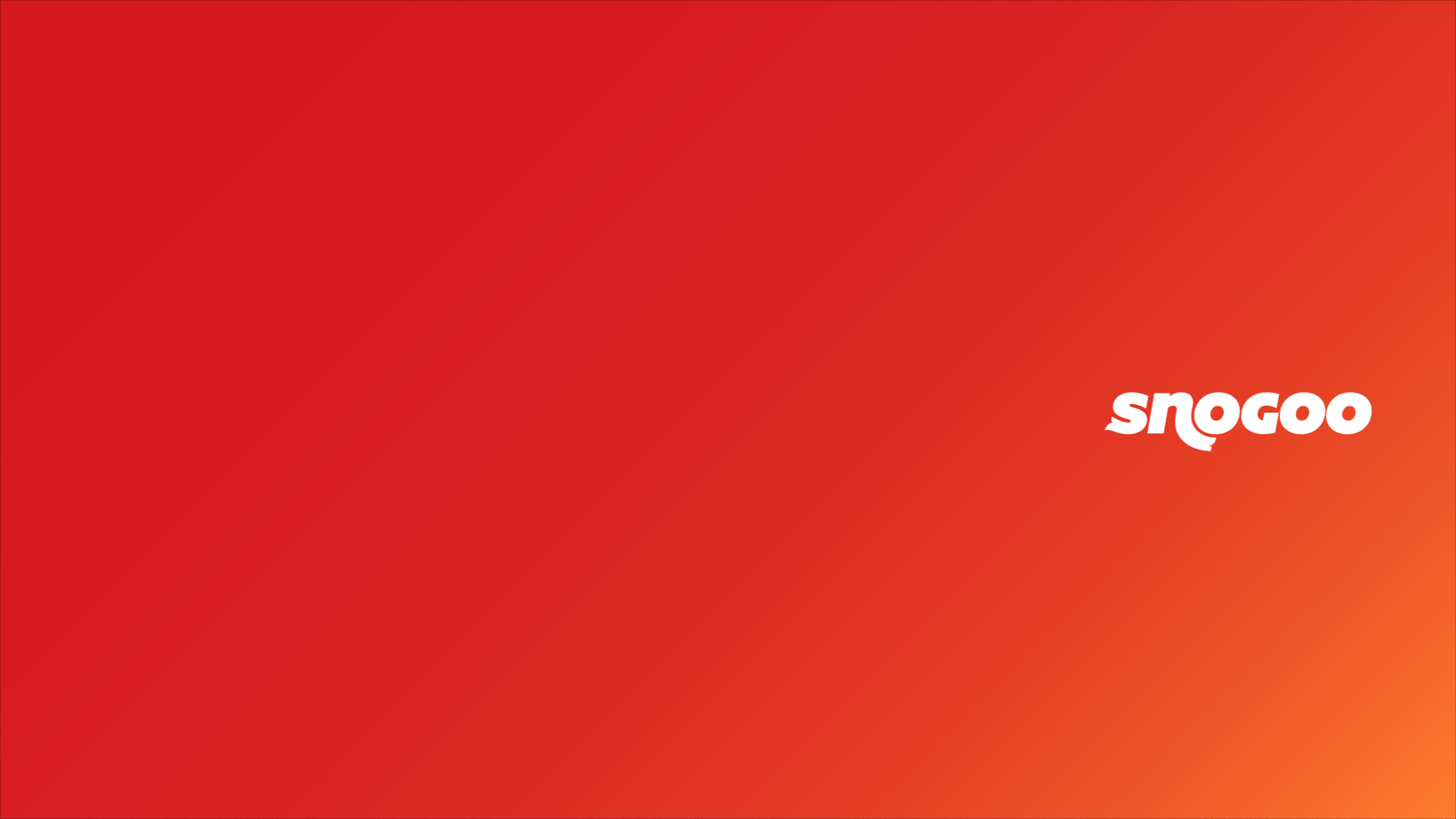 STARTING OFF ON THE RIGHT… LEG
The name also served as an inspiration and a major branding motif - the legs. That opened up an opportunity for wide-ranging visuals with various leg-centric characters. We used flat style illustrations which, due to their retro look-and-feel, don't fall into the trap of generic digital visuals that we see everywhere. And they work just as well offline (on the vending machines themselves) as they do online (in the mobile app and the website).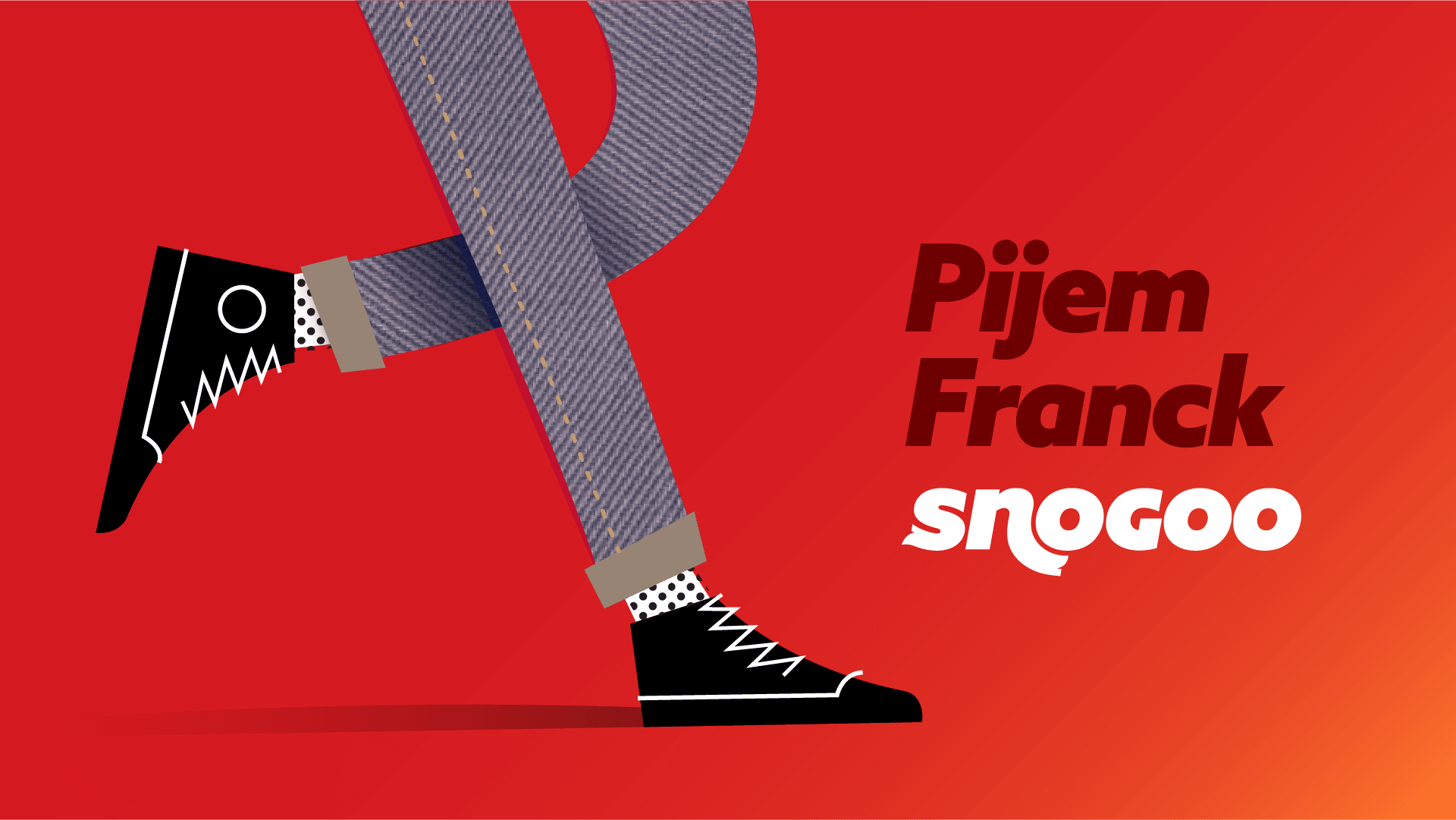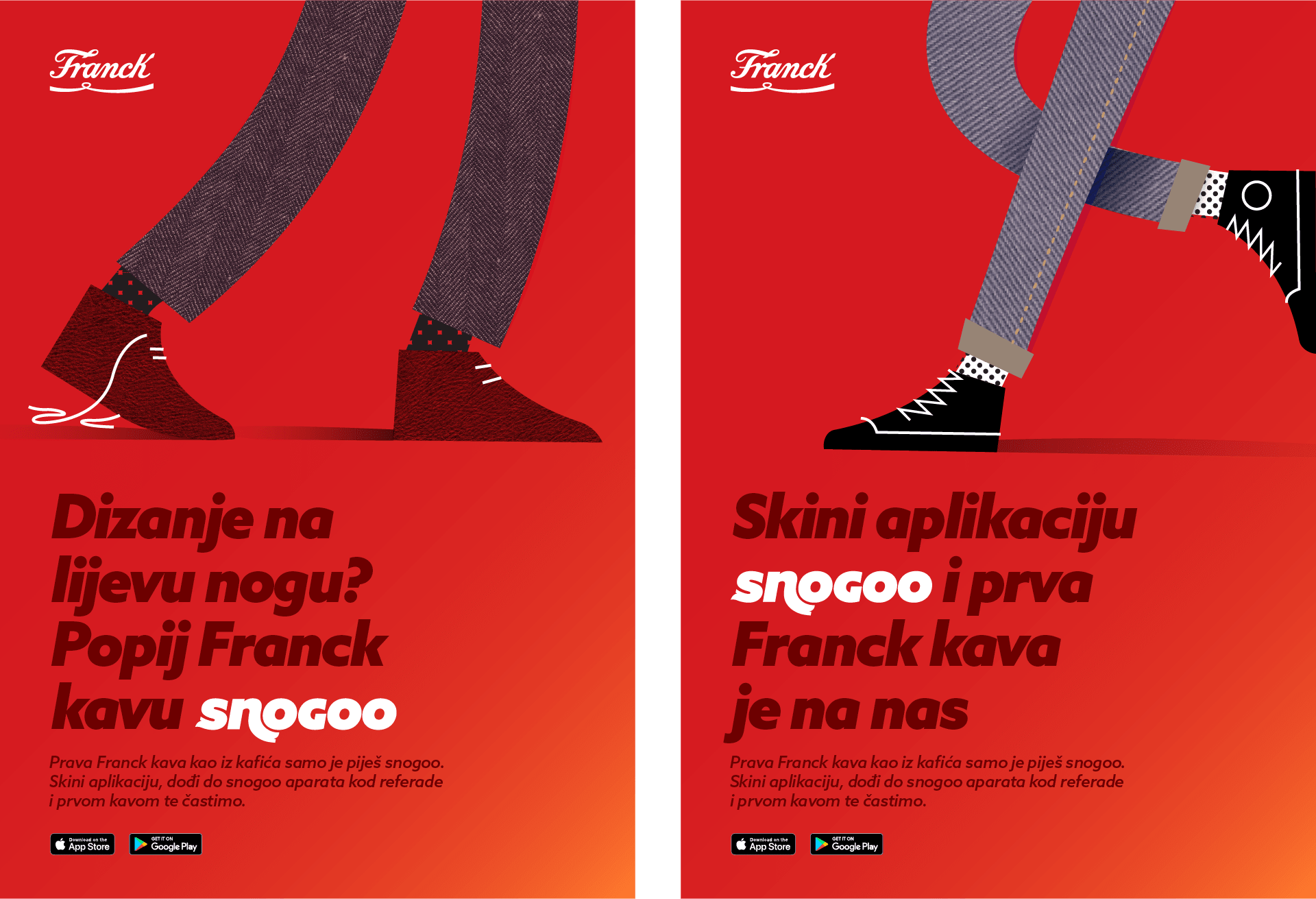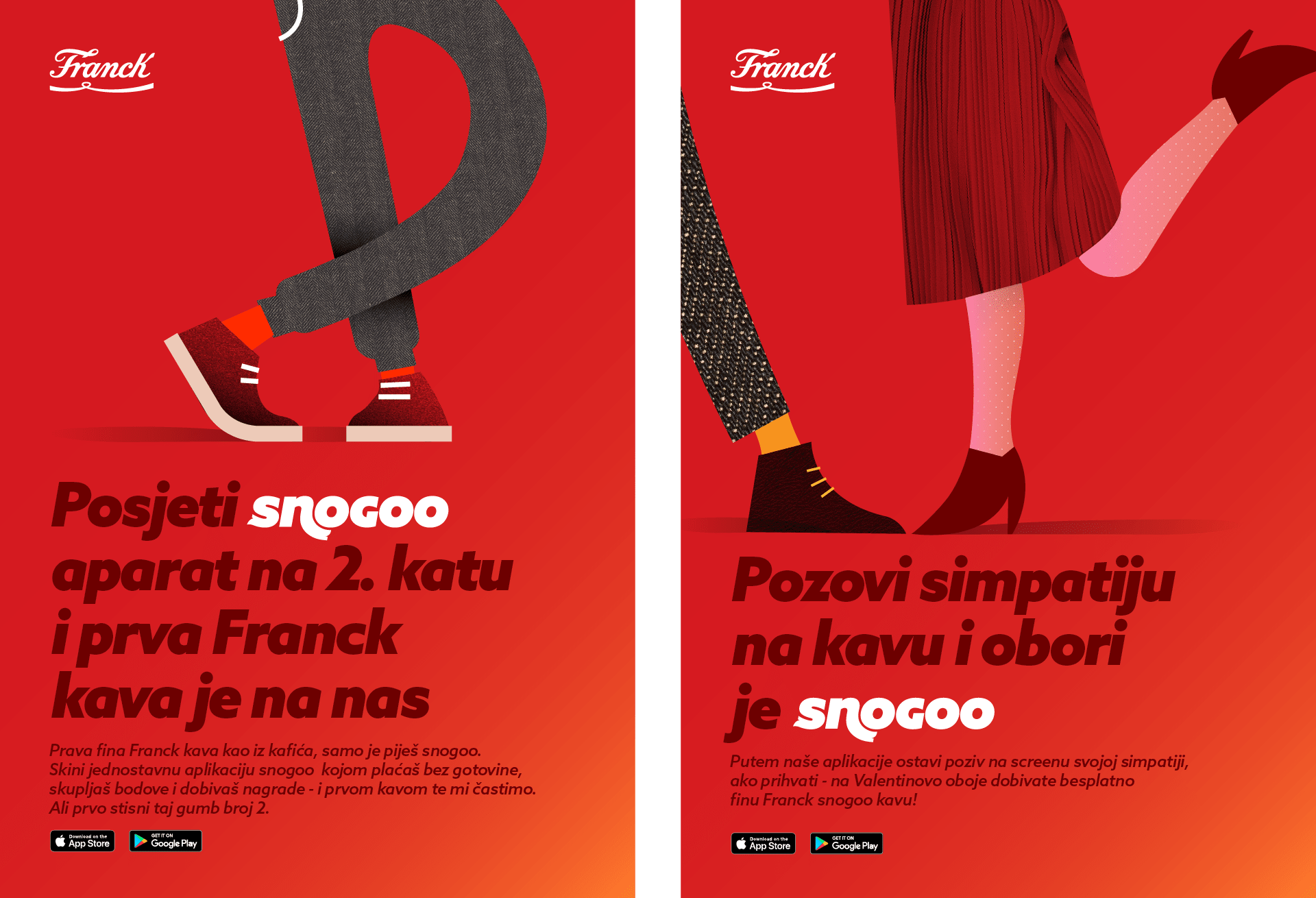 Snogoo literally translates as "on the legs" which is a Croatian term for "on the go" and means doing something quickly, vigorously and in a rush.
WE WOULD WALK 500 MILES (FOR A YOUNGER TARGET)
The younger target is already accustomed to world-class apps and they will be comparing snogoo to Snapchat, Instagram and Spotify. They don't care (for better or for worse) that this one was made in Croatia. That's why, we gave extra attention to the user experience - from the seamless connection via bluetooth, to the smooth process of beverage choice and payment. We spiced up the app with gamification features which allow collecting points for free drinks or other awards (opening up the possibility for co-brand activities), sending points and drinks to friends, finding the closest vending machine, and so on. It also leaves room for additional features when the number of users and machines increases.
And most importantly, the phrase "I'll take something from the vending machine and sip it on the go." won't sound as desperate as it once used to.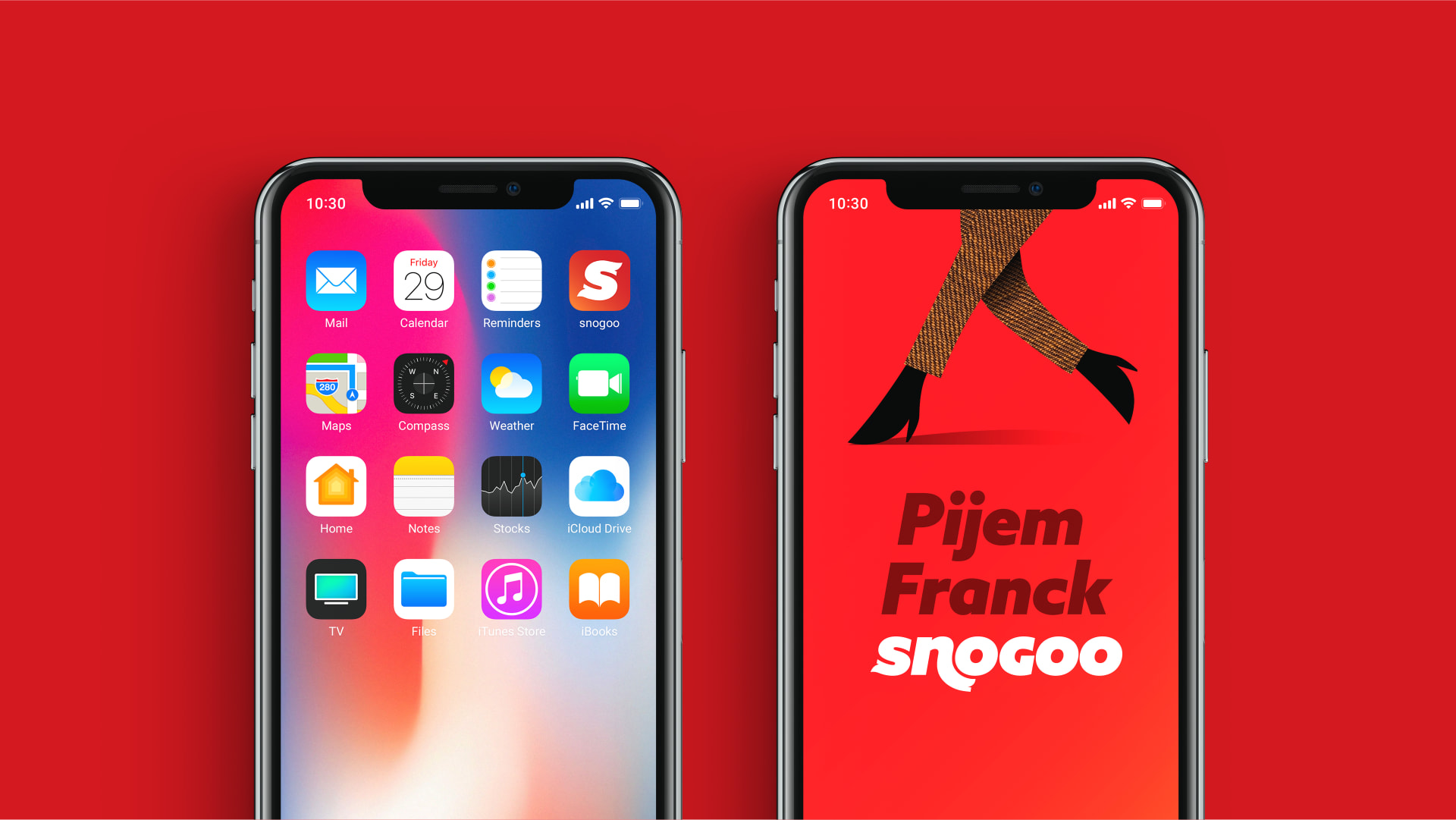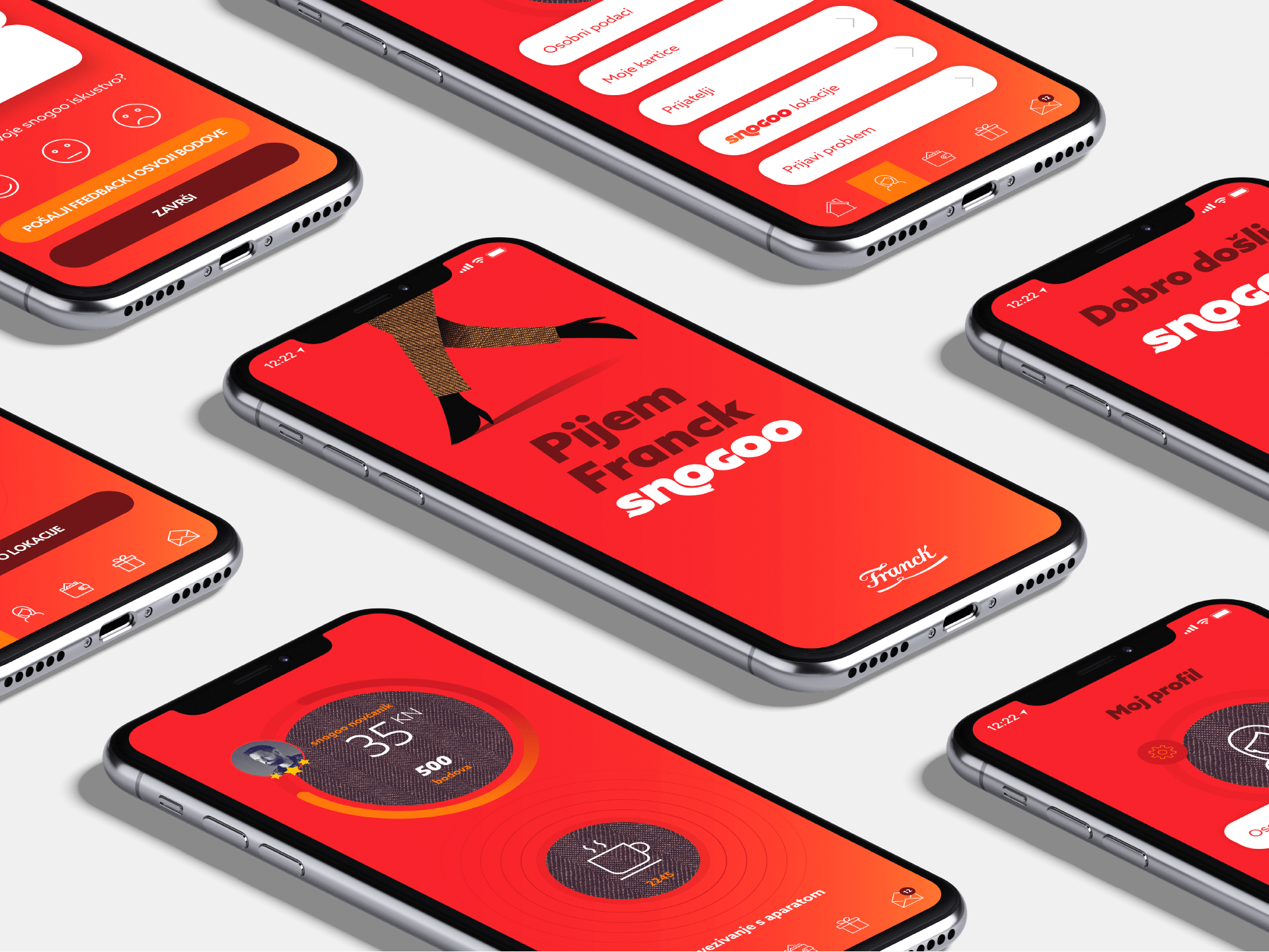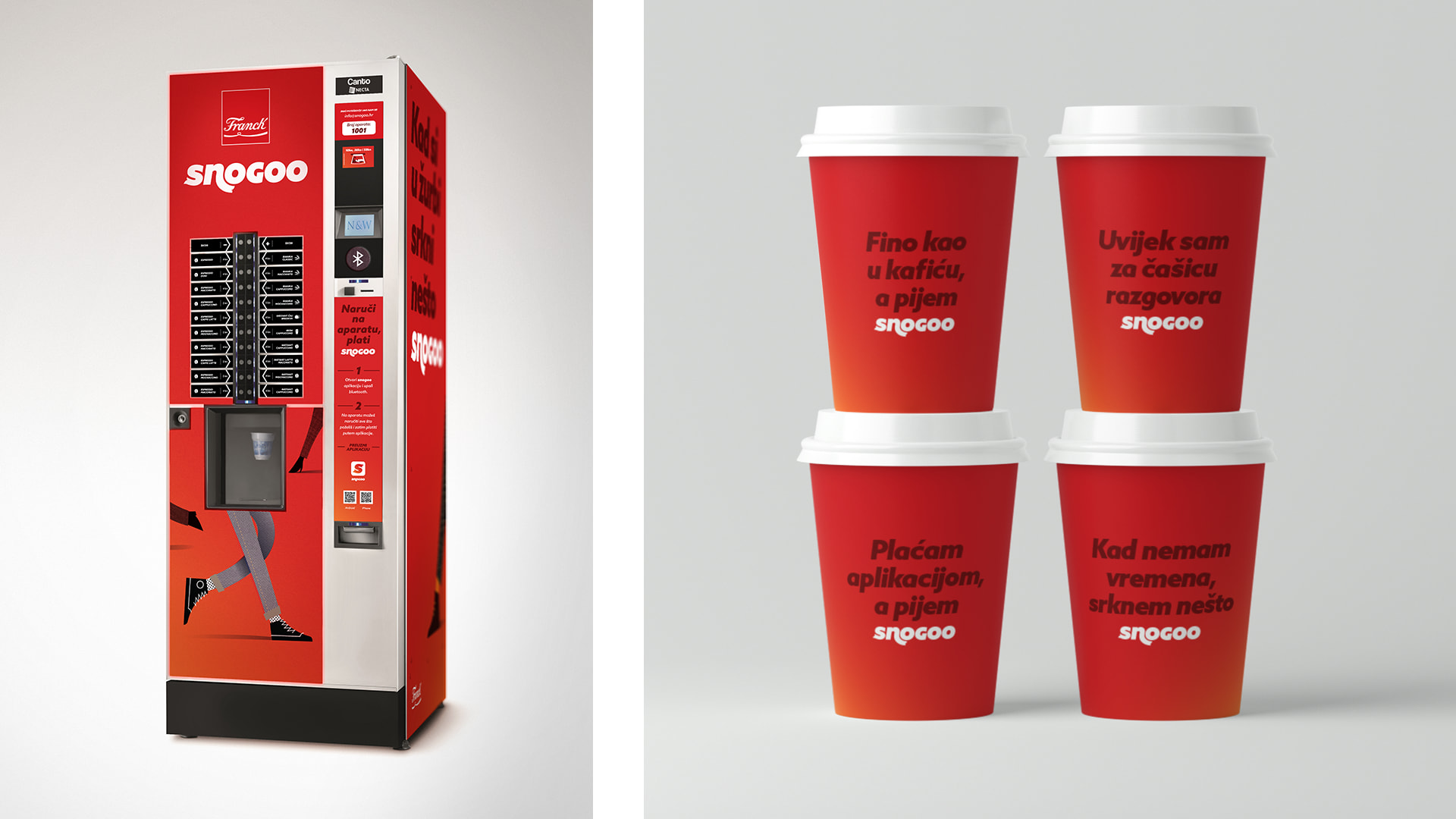 To finalize snogoo as a digital product we have created snogoo.hr - the central spot where both private and business users can get useful information.

Credits
Señor
Vanja Blumenšajn ~ Very Creative Director, Copywriter | Jurica Ćorluka ~ Creative Director, Copywriter | Damir Mazinjanin ~ Art Director | Miro Čavar ~ UX/UI Designer | Mišel Kovačić ~ Designer | Iva Kaligarić ~ Strategic Director | Stipe Bačić ~ Account Manager
Associates
Dubravko Hendija ~ Product Manager (Intis) | Vedran Plavec ~ Project Manager (Intis) | Linnch ~ Animator | Vinko Pelicarić ~ Sound Designer | Borna Neuhold ~ Partner (Zeraxo) | Vladimir Romanov ~ Project Manager (Zeraxo) | Žarko Kuvalja ~ UX/UI Designer
Franck
Hrvoje Bujan ~ Executive Director for Strategic Business Development | Anamarija Gulin ~ Project Manager | Mihovil Staroveški ~ Project Manager | Marko Koprtla ~ Sales Director | Mateja Cindrić ~ Junior Account Manager