Everyone who has ever ventured into design, advertising or has set foot on the creative scene has surely, at one point or another, come across client feedback. Sometimes it may seem that the client and the creative do not speak the same language. Can the outcome be successful without one understanding the other?
NO HABLO CREATIVO
When it comes to business, feedback is defined as "information about reactions to a product" or behavior that aims to correct, direct and accomplish the desired result. It's a crucial two-way process, on whose quality relies the outcome of each project. Not understanding the process and poor feedback will diminish every possibility of satisfactory output and will create an atmosphere of frustration and discontent on both sides.

UNDERSTANDING IS THE REAL ART
The aim of the Art of Feedback project is to encourage both parties to think about different ways in which their communication can be more constructive and successful. We did this project as part of the Design District Zagreb festival, and it consisted of two phases: first we asked local creatives to submit anonymous examples of incomprehensible feedback at umjetnostfeedbacka.com, and then we made them come to life by giving actors a chance to interpret the feedback with the goal of emphasizing their ambiguity, awkwardness and susceptibility to different understandings. This way, we tried to illustrate the complexity of the client-creative relationship.
"If an occasional client, account or creative, before he clicks SEND without much thinking, recognizes himself in one of these examples and thinks his mail may pop up in one of the future episodes, the project was worth it." - Vanja Blumenšajn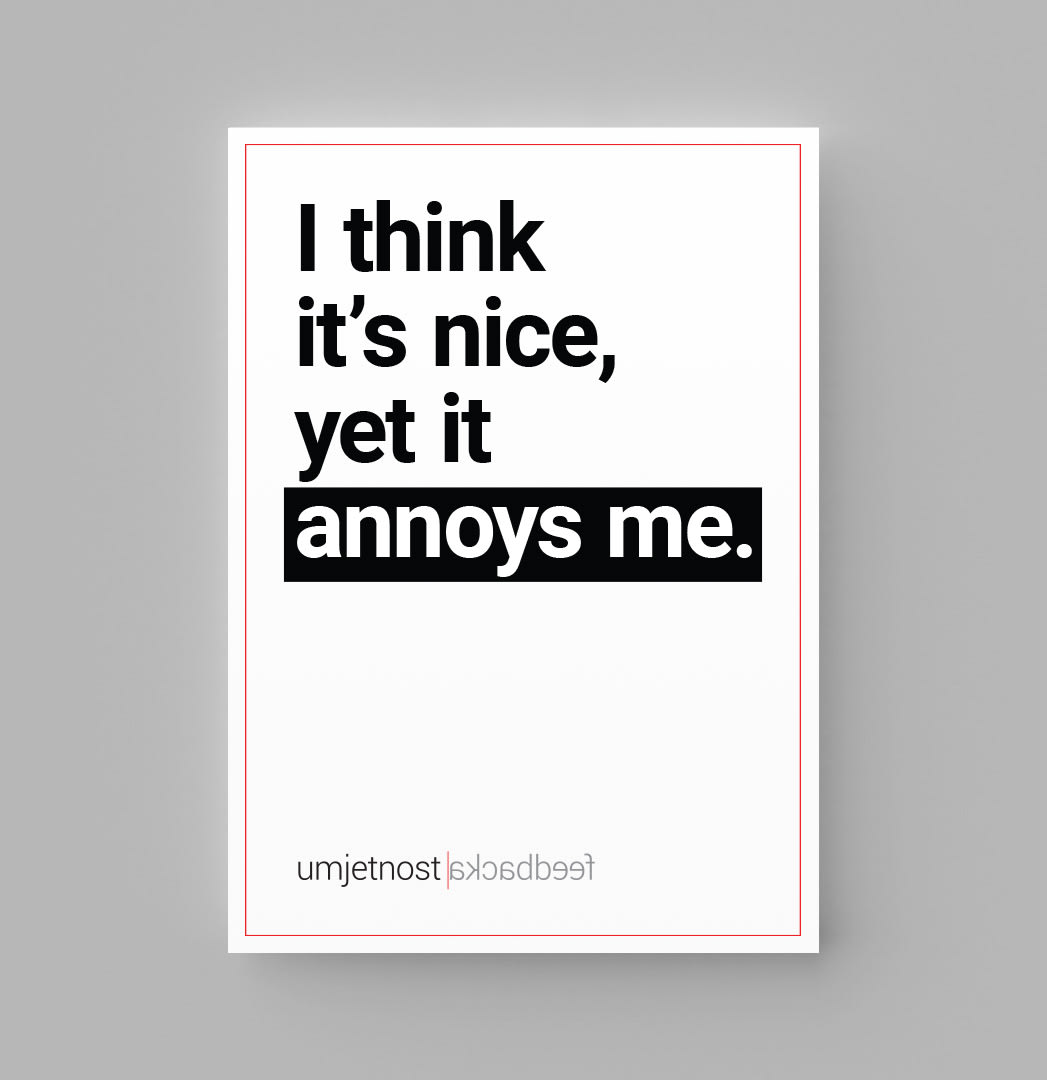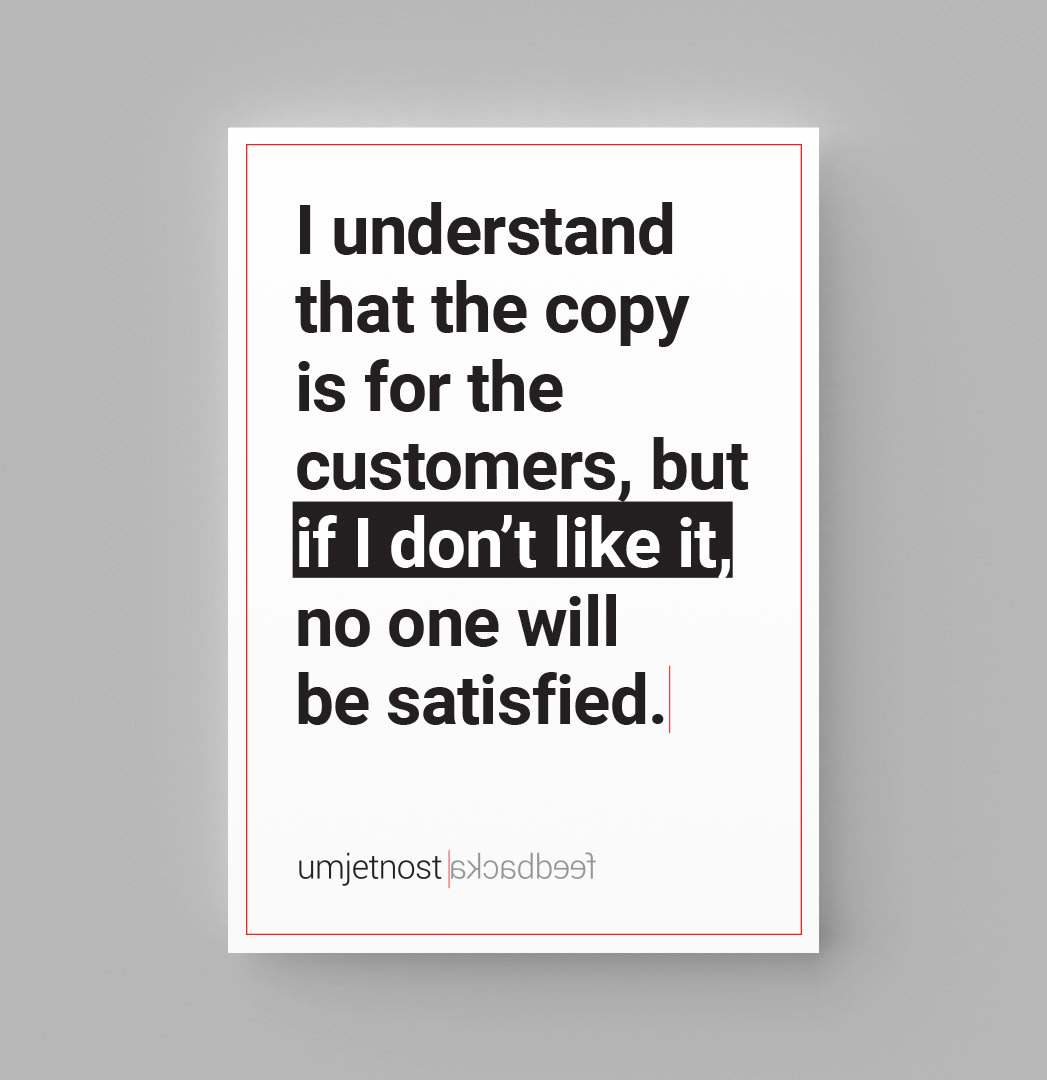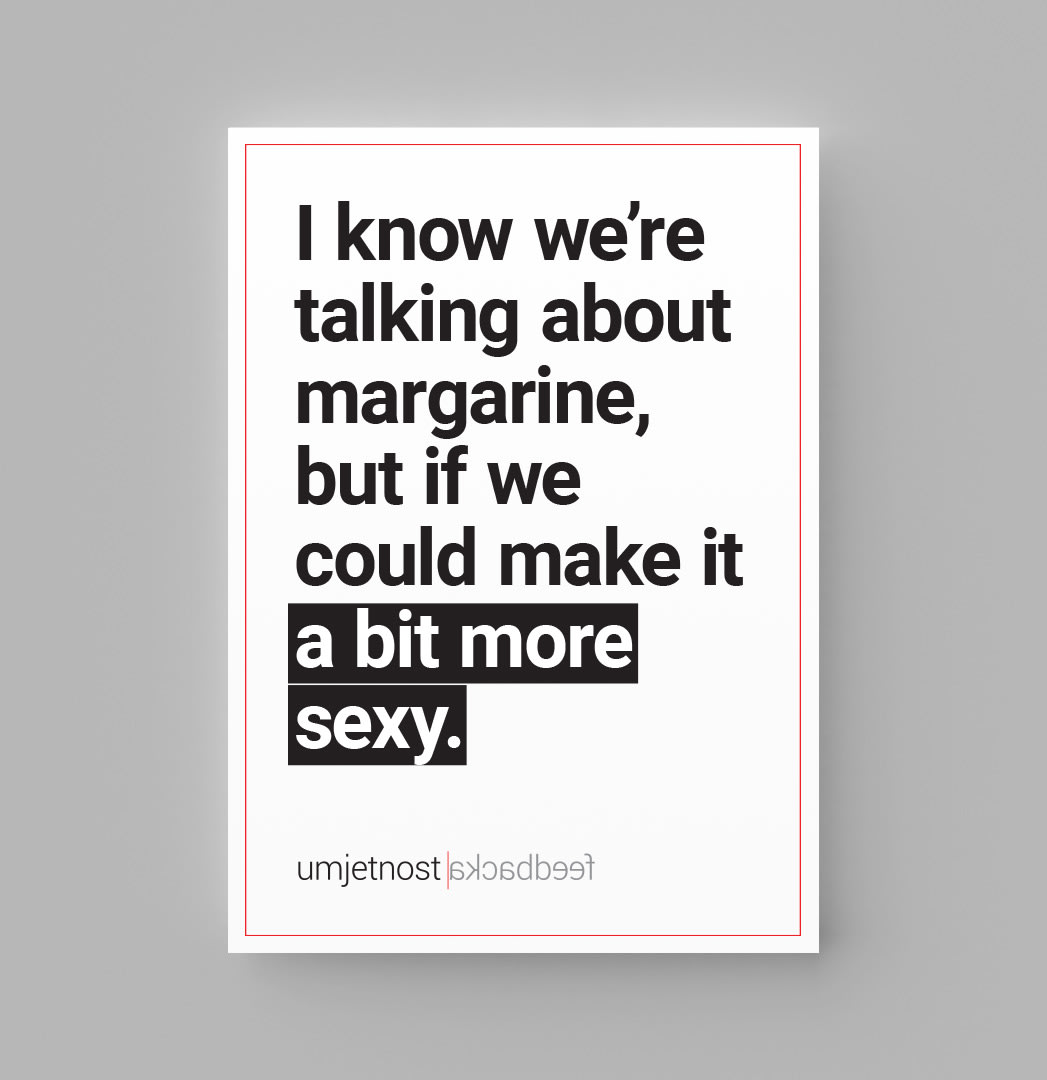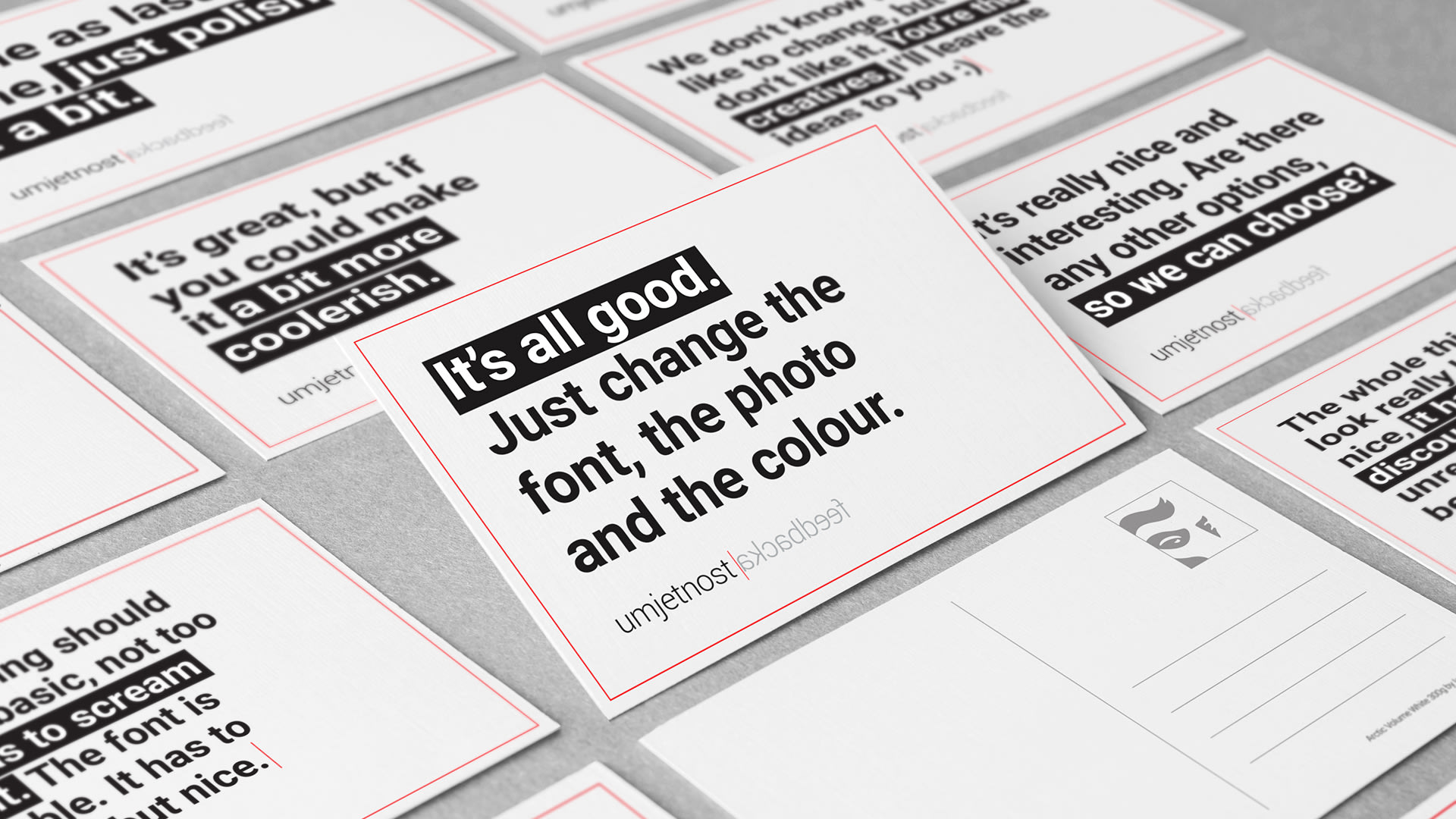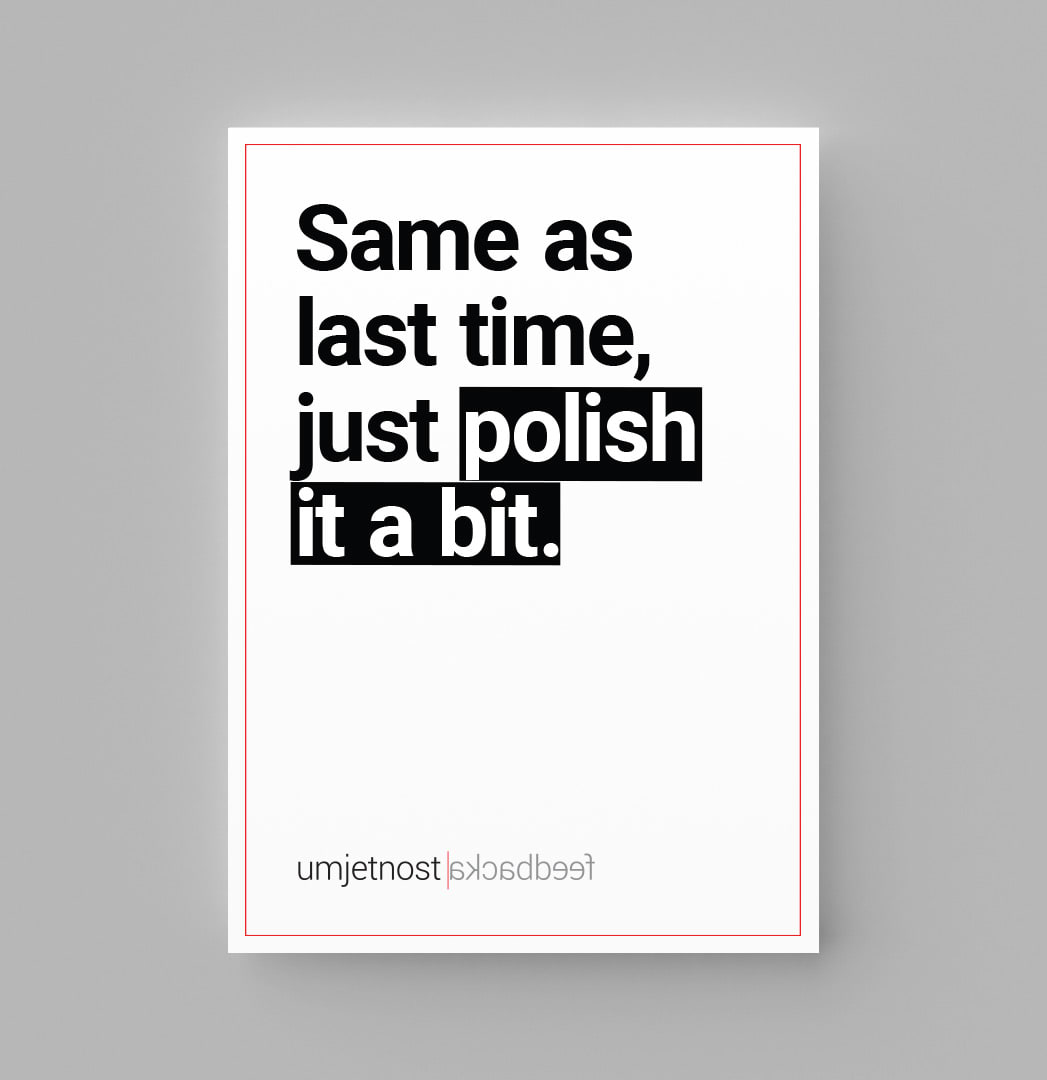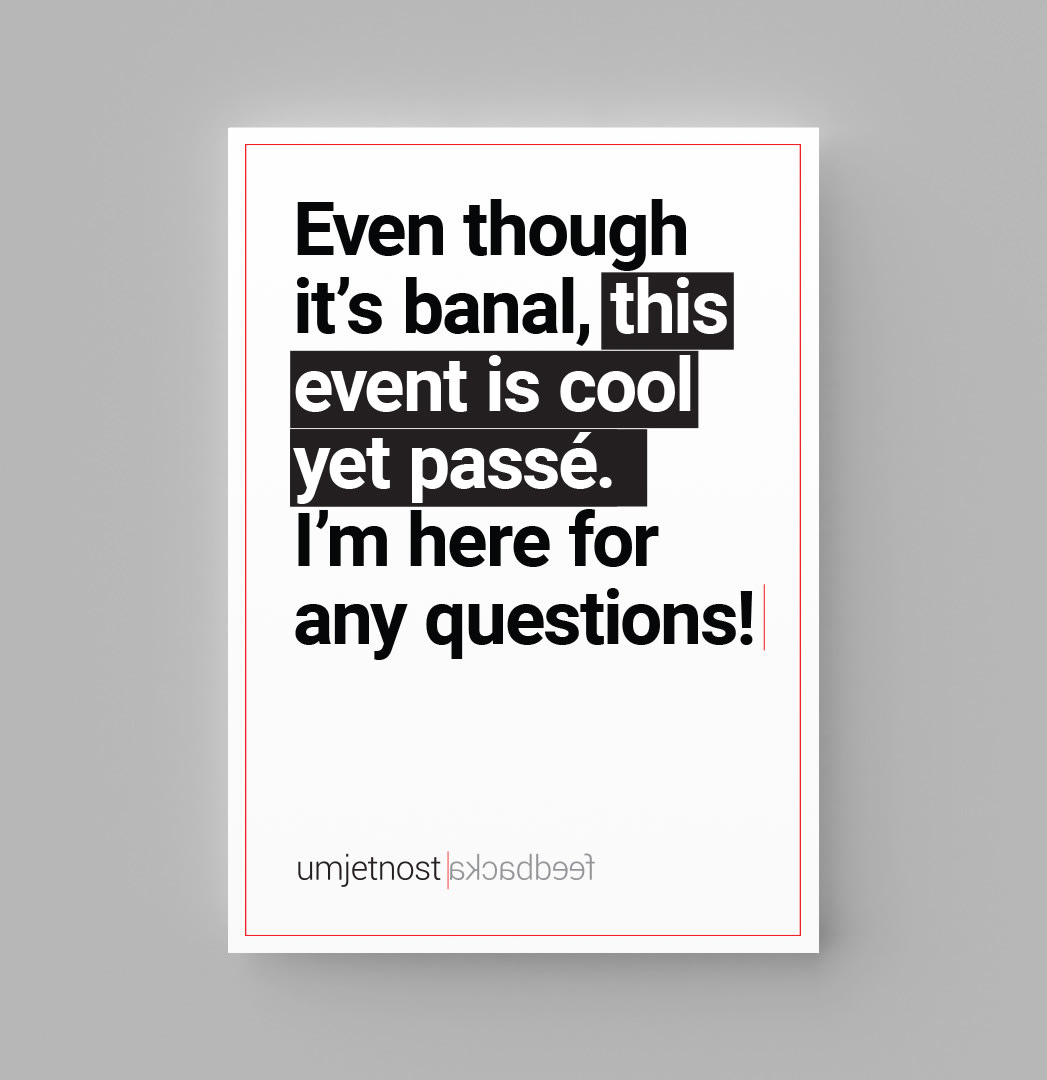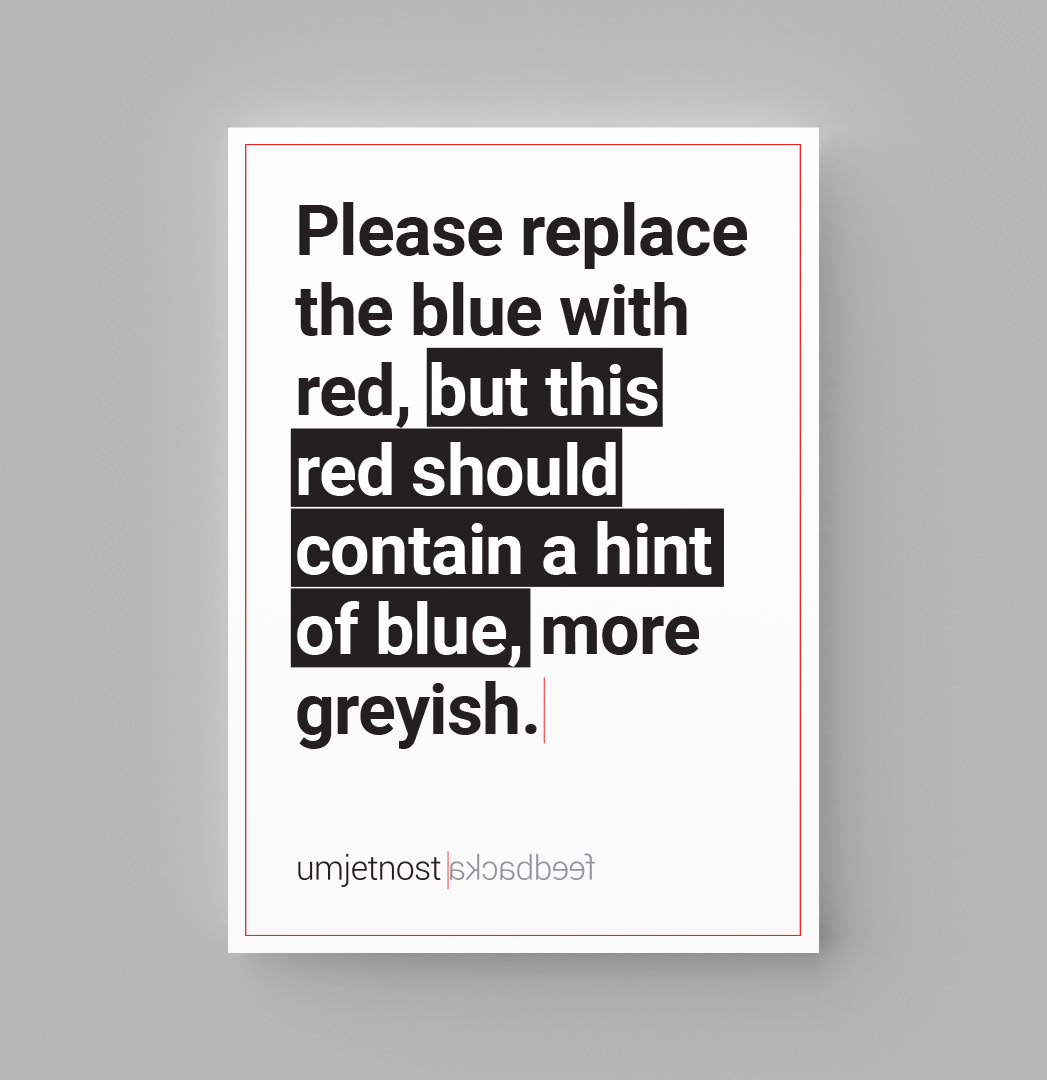 EXCELLENT PUBLIC FEEDBACK
The Art of Feedback film ended up in the official selection at two national film festivals – Croatian Film Days and Diversions International Short Film Festival, and it was screened at regional advertising festivals such as Kaktus. The poster exhibition and the film screening was seen by more guests than we could count between the gin tonics, the Facebook post about the project was our most liked ever and so far, the creatives reported more than 300 feedbacks (that are still coming in from all over the region).
Credits
Send feedback to
Vanja Blumenšajn ~ Very Creative Director, Director, Editor | Jurica Ćorluka ~ Creative Director | Iva Kaligarić ~ Producer | Nina Trumbić ~ Producer | Damir Mazinjanin ~ Art Director | Miro Čavar ~ Web Designer | Ladislav Župančić ~ Fullstack developer | Dario Belić ~ Camera Operator | Boris Miletić ~ Editor | Marin Balaić ~ Colorist
Special thanks to
Lana Barić, Damir Markovina (actors), Igepa, Jägermeister, Hendrick's, ALU, and anyone who sent their feedback and to the clients without whom this film wouldn't have been possible.