Have billboards really run their course? Is there a place in the media mix to accommodate street banners or is there only room for online ones? And where has the world come to when the MIXX Grand Prix goes to outdoor campaigns! There's been a lot of misguided debate recently about online versus offline: which is better and where to allocate budgets? 'Say it out loud' is an excellent example of how the public inhabits both of these worlds and how campaigns – in order to be successful – have to successfully merge the two.
WHEN YOU HAVE SOMETHING TO SAY, SAY IT OUT LOUD!
Outdoor akzent presented us with a demanding challenge: show the power of outdoor ads in the digital age and give clients of varying sizes and budgets a reason for using them. Some of our first ideas were focused on provoking and seeking attention but in this case that approach didn't seem sufficient. What if we came up with a mechanism that will focus on all the burning issues? Everyone, from an average Joe to a corporation, has something to say; they just need an opportunity and the medium to do so. And so the #sayitoutloud mega-competition commenced, confirming the power of outdoor advertising – of course, if used the right way: creatively and smartly.
MISSION: START AN AVALANCHE
We announced the competition with a series of billboards that invited people to visit recitoglasno.com (sayitoutloud.com) and leave whatever message they wanted. The award for doing so? 150 of them would have the opportunity to end up on actual billboards all across Croatia. Only billboards were used for this announcement, proving their effectiveness in attracting interest but also testing the value of billboards as a prize; since people can leave their messages daily on social networks, the perceived value of a message appearing on a billboard was additional proof of the strength of this medium as far as the general public is concerned.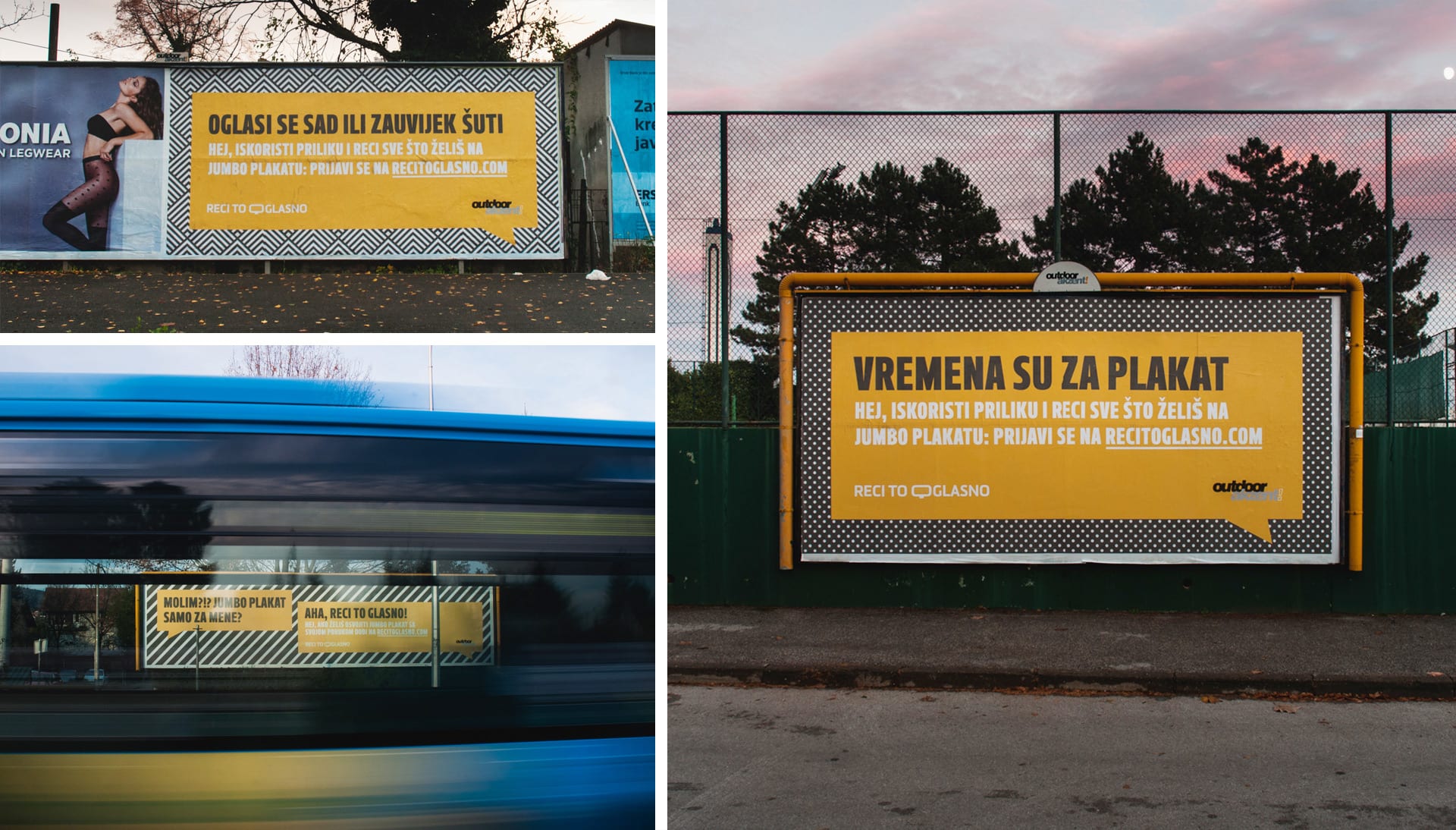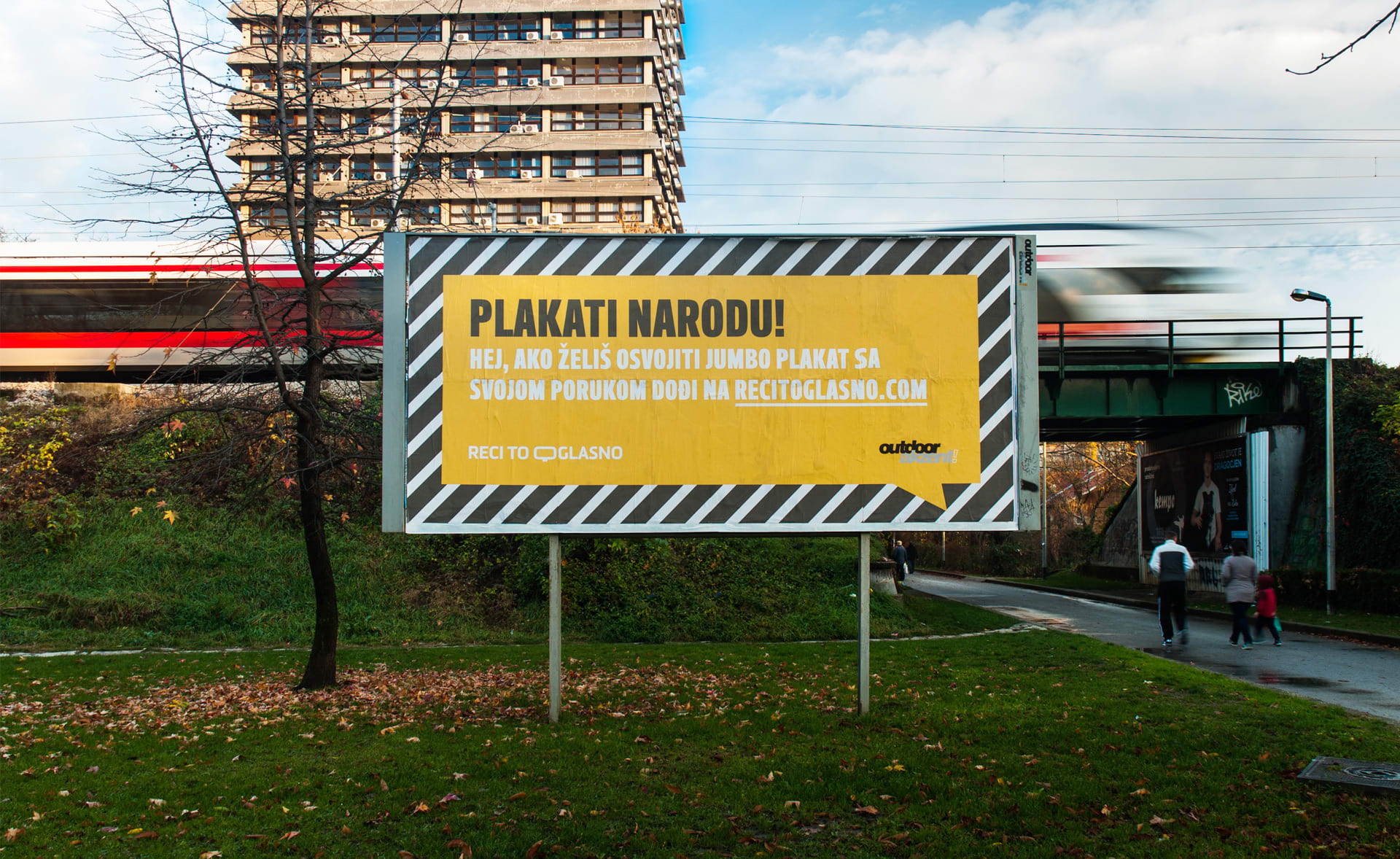 OPINIONS ARE LIKE ASSHOLES, EVERYBODY HAS ONE
The second phase involved people making their own posters, sharing them on social media and inviting friends to vote for them. Instead of imposing topics for discussion, we gave everyone an opportunity to direct public discussion in the direction they wanted. This is the secret of the campaign's success; we created a dialogue or, better said, dialogues which – regardless of their variety – crystallized the topics that are of interest to the public. If you owned a computer and had access to the Internet, you probably stumbled upon the yellow-grey posters with messages ranging from humorous, touching and serious to politically charged and ideologically polarizing – spreading online with unbelievable speed.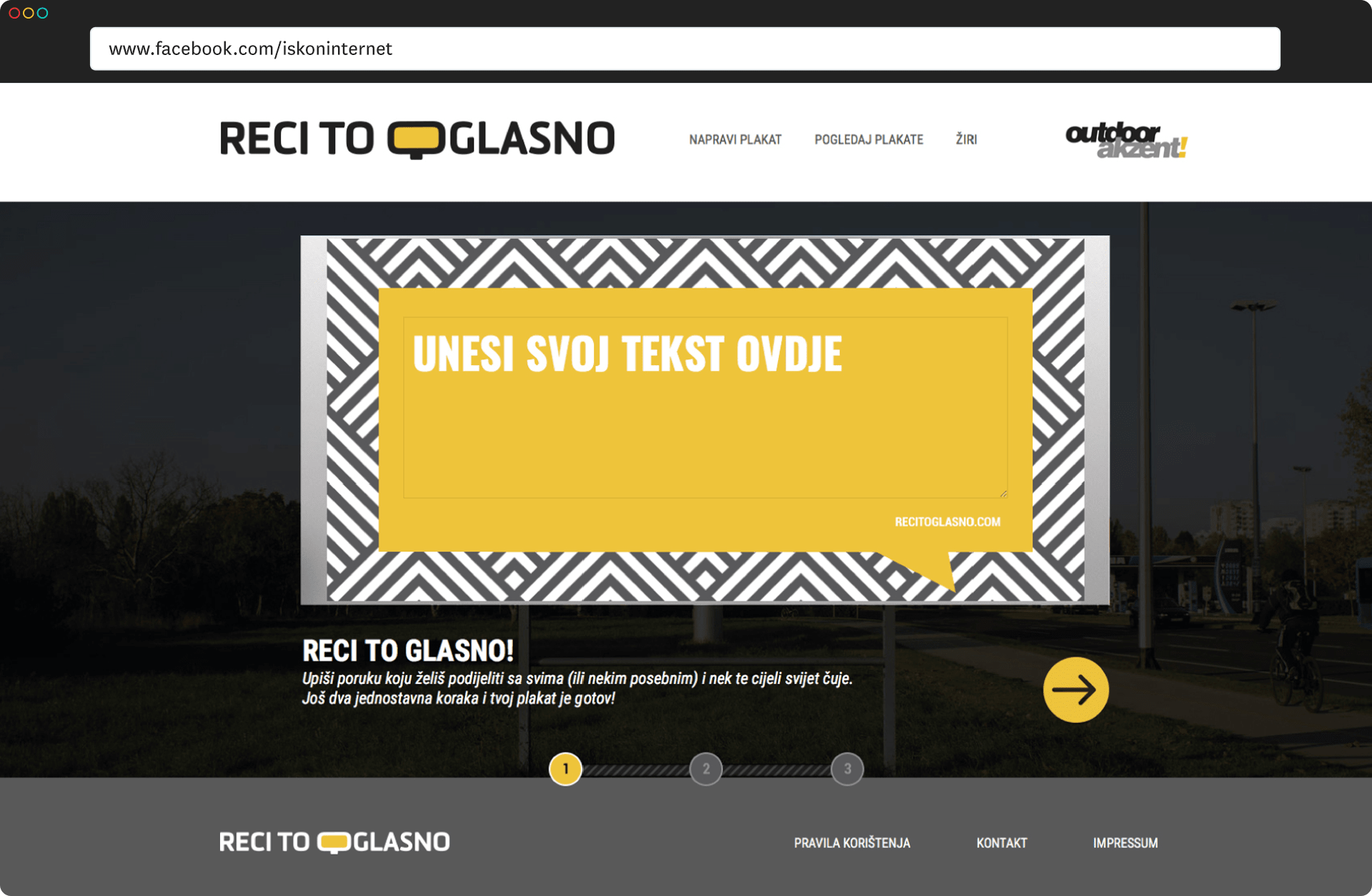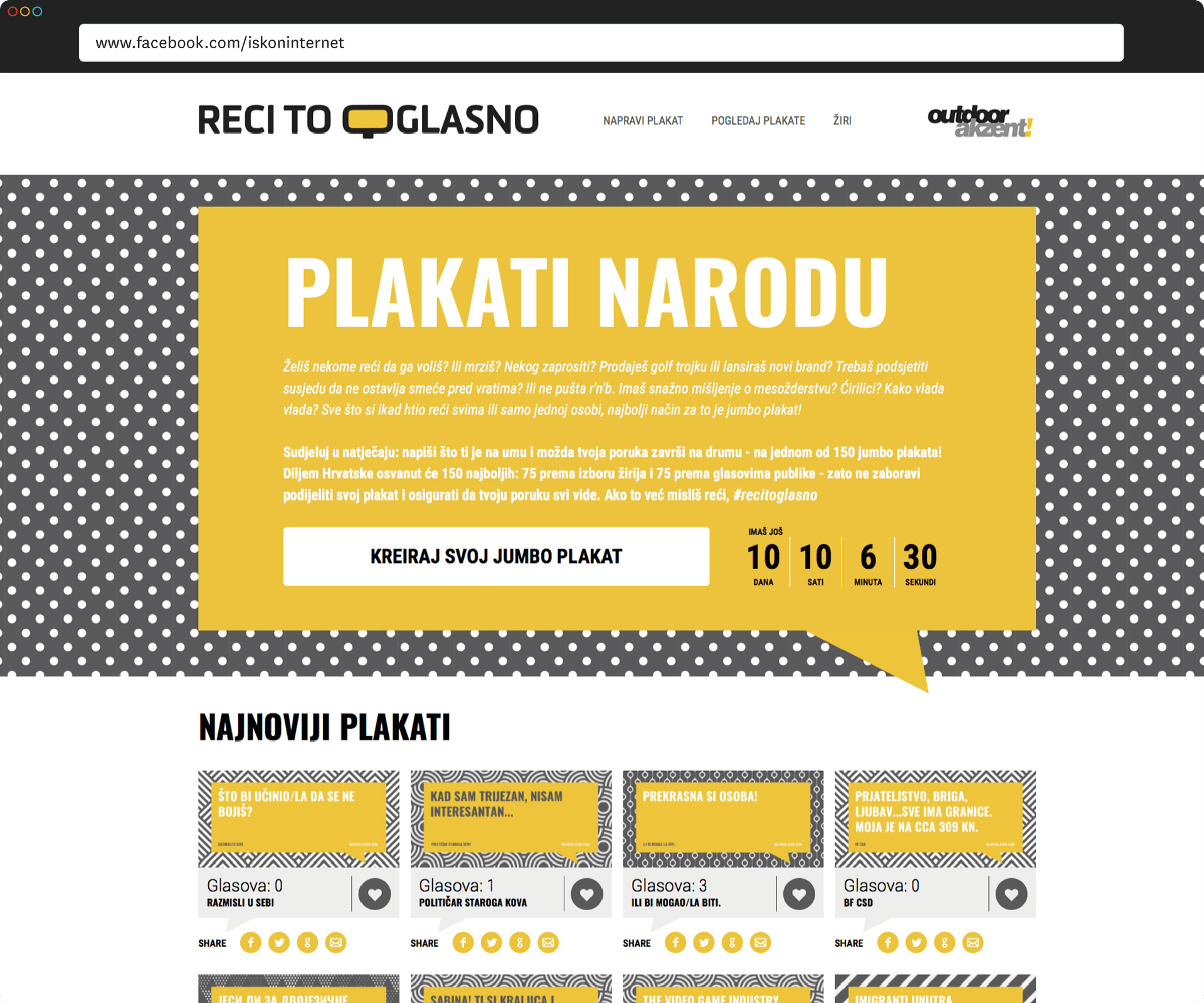 FROM OFFLINE TO ONLINE AND BACK
Choosing the 150 best ones was the task entrusted to the jury and the public. There were two reasons for choosing this system: the jury guaranteed the quality of the selected messages and the variety of topics, while the votes of the public guaranteed a chance for everyone to become a winner and to make sure the competition went viral. The chosen billboards found their place all across Croatia and again set off a new series of shares, comments, opinions, critiques and compliments. And so the campaign that began with a billboard went online and then returned to where it started – to the billboards.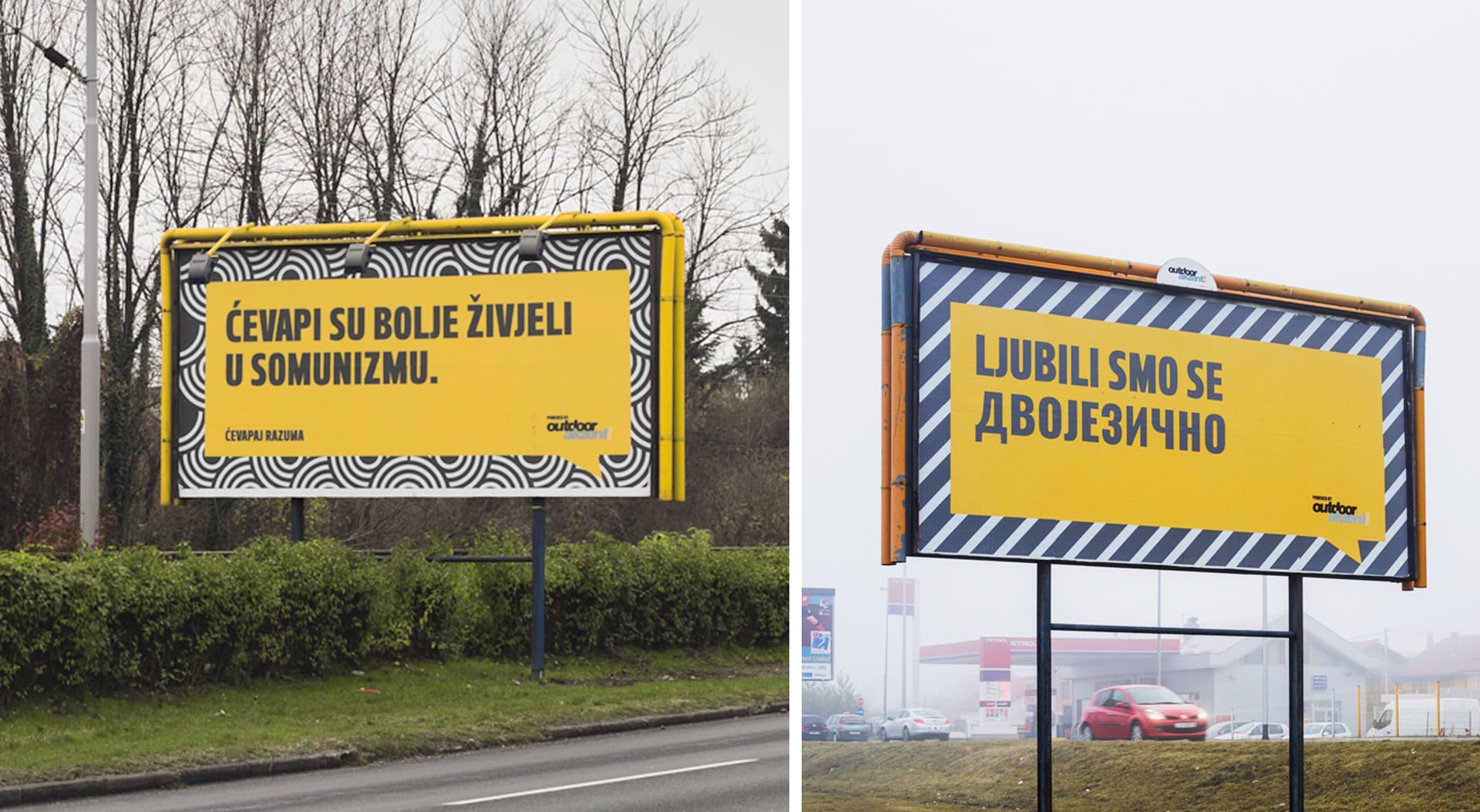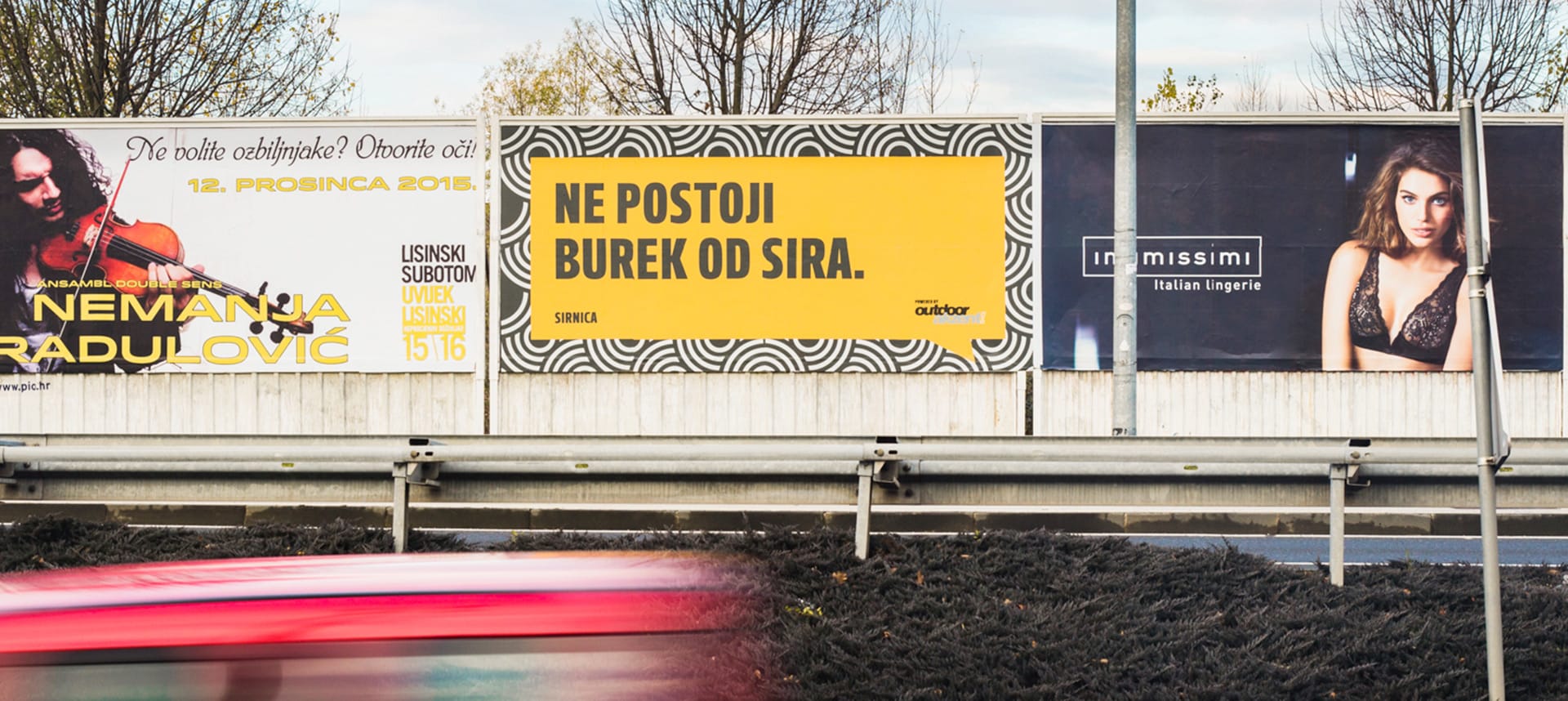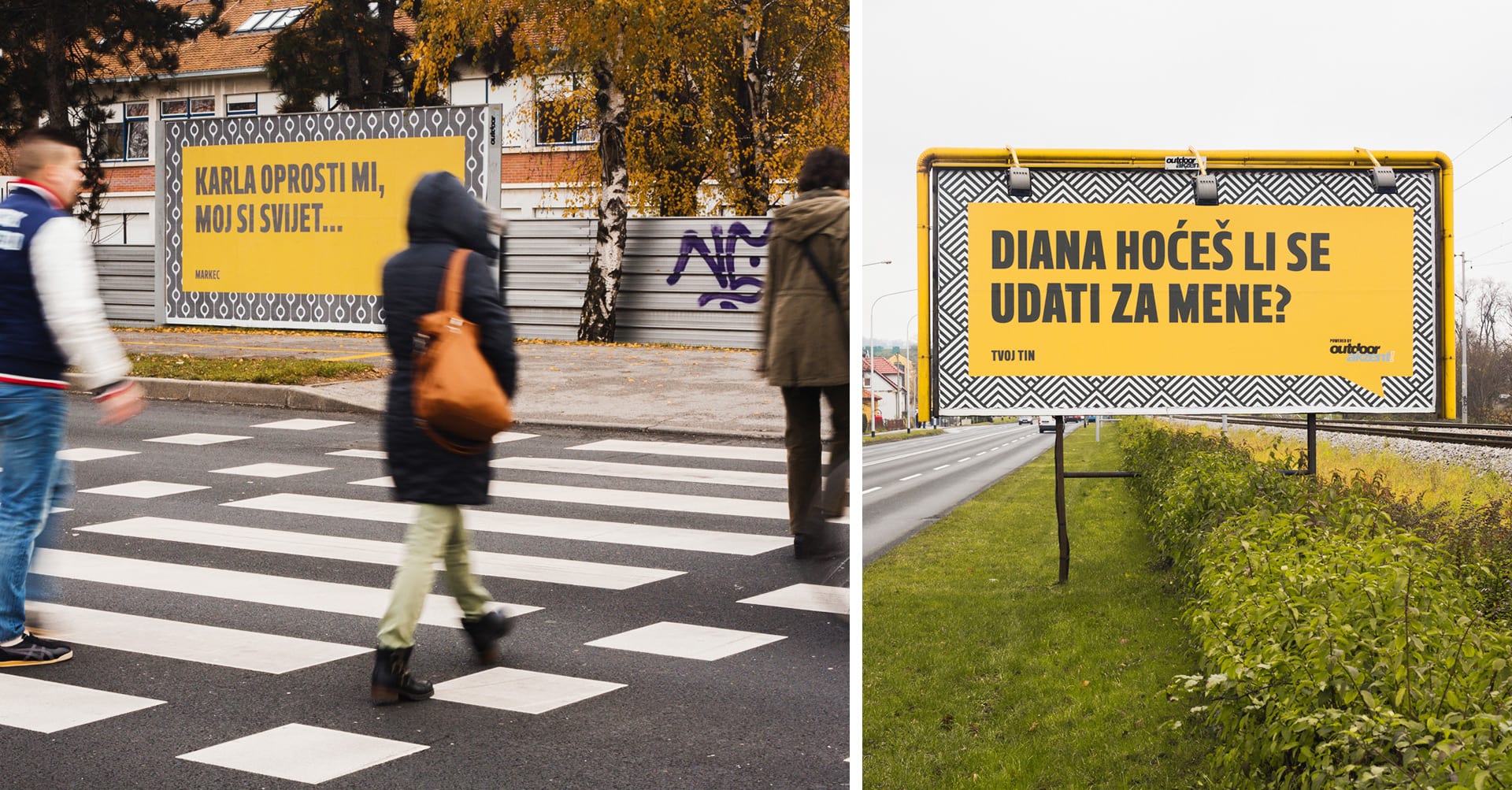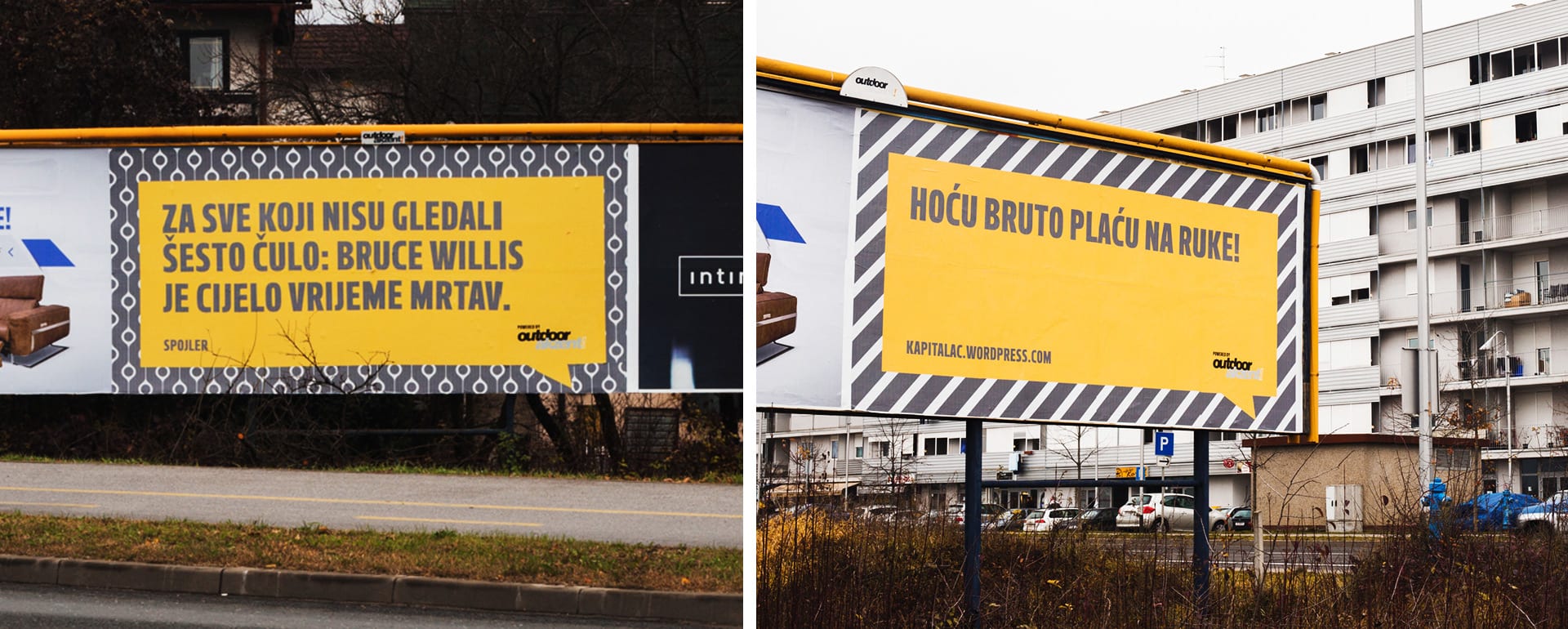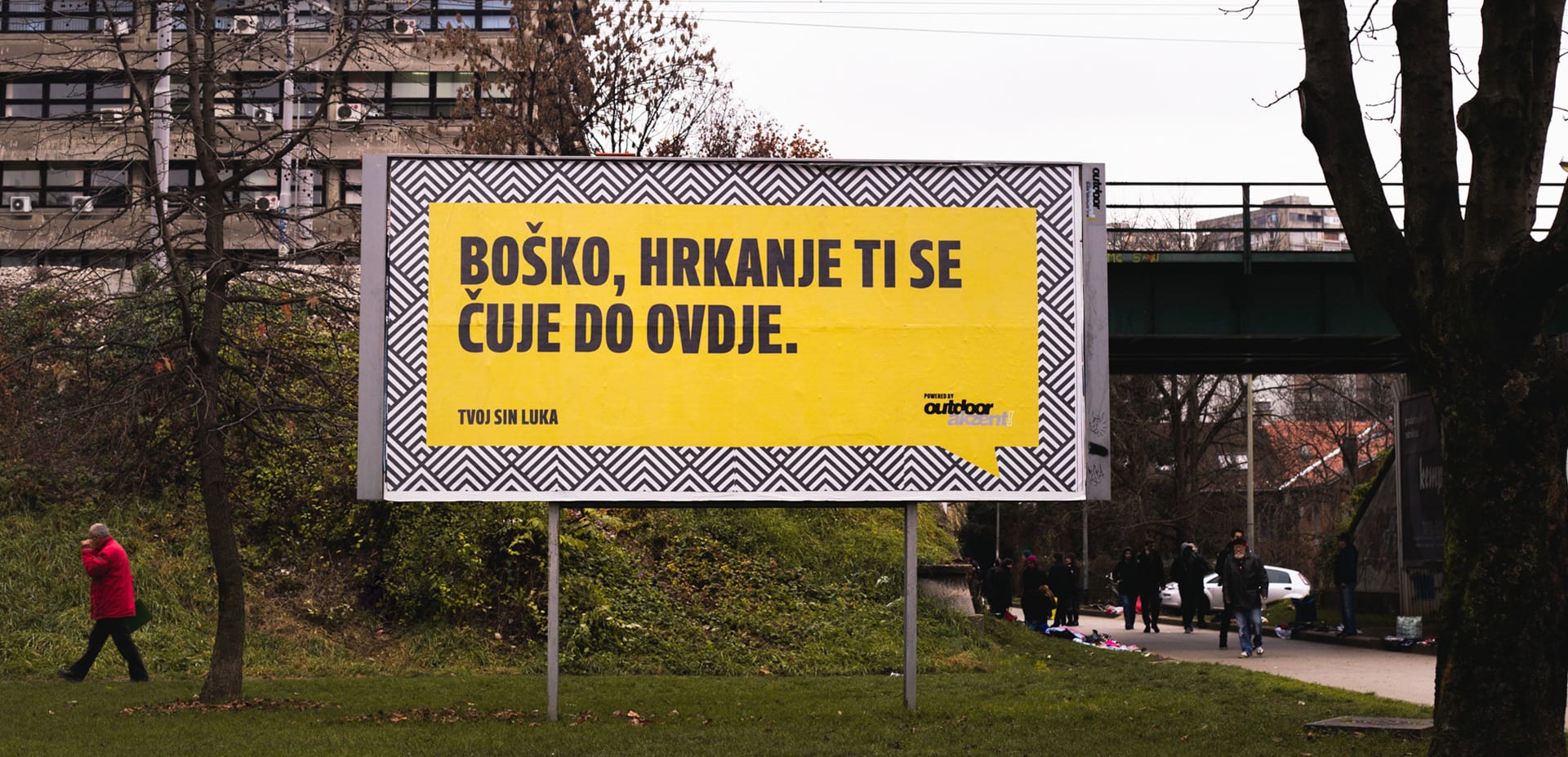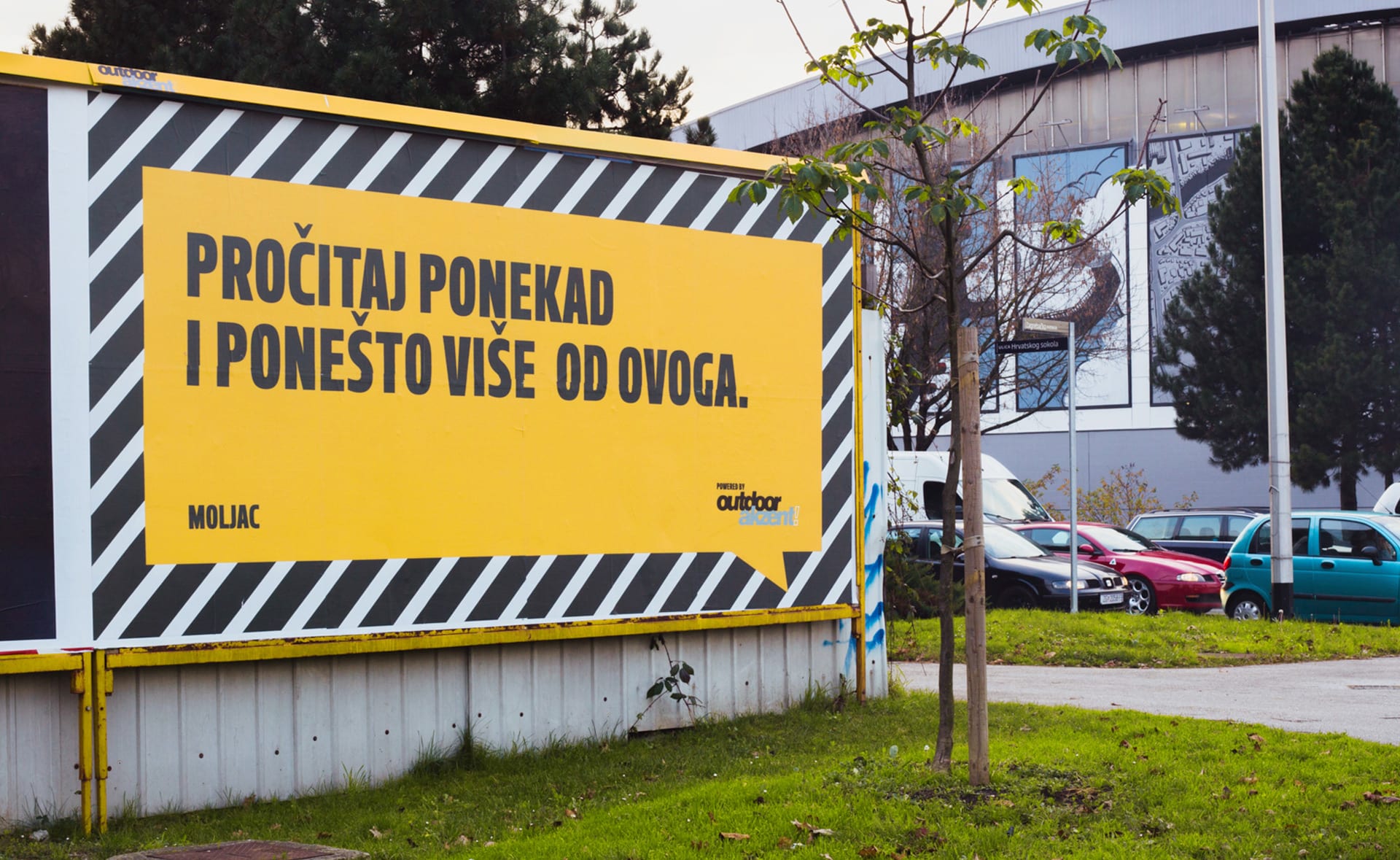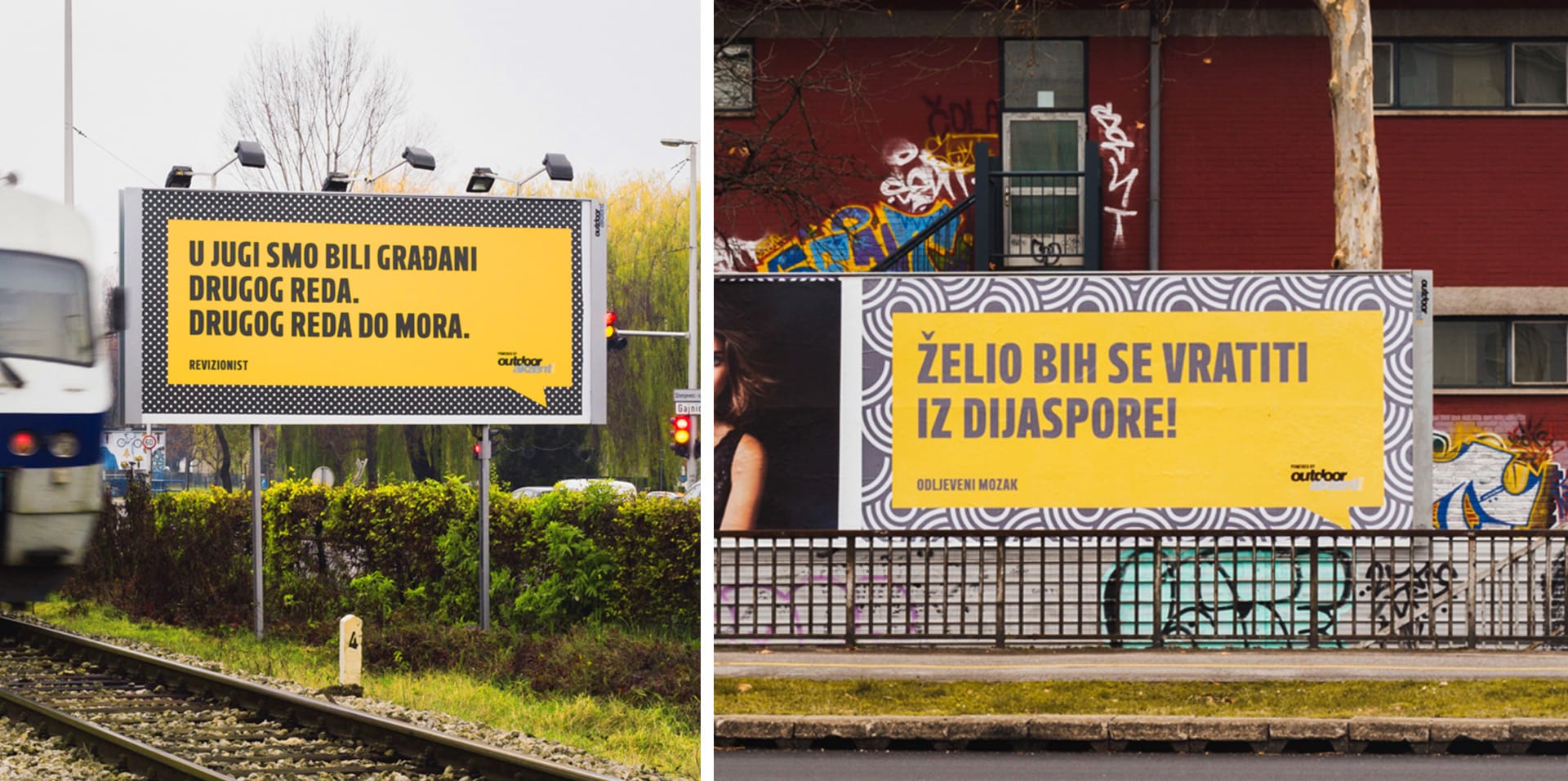 JUMBO BILLBOARDS WITH JUMBO RESULTS
We predicted big engagement but the project blew up, exceeding all expectations: three weeks into the campaign, we had over 300,000 unique visits from more than 140 countries. Over 10,000 posters were created, voted on nearly 1,000,000 times. You clicked an unbelievable 7,200,000 times, and we didn't yet get a chance to add up all the comments, tweets and shares on social networks. Among other fun facts, during the campaign the Živi zid political party called upon its members to vote for their promo proposals, certain priests lobbied people to vote using church portals and Twitter users from India retweeted messages of love by local pacifists.
The campaign sparked a huge interest and manifested the role of outdoor advertising in today's media mix. In the new mass-media landscape their role is somewhat different, but our task is to constantly reinvent, using existing elements in new and unexpected ways. Every objective has its own set of tools, but only thought-through, integrated approaches can bring about quality solutions. Regardless of how much time we spend online, we can't write off the offline world. Or at least not until virtual reality takes over and we start spending our days submerged in photon milk nutrient baths hooked to a pair of VR goggles. But who can vouch that even then someone won't place a couple of virtual billboards by the side of a virtual road. We sure can't.
Credits
Señor
Vanja Blumenšajn ~ Very Creative Director, Copywriter | Jurica Ćorluka ~ Creative Director, Copywriter | Luka Goreta ~ Junior Copywriter | Vinko Čuljak ~ Art Director | Imelda Ramović ~ Art Director | Miro Čavar ~ UX/UI Designer | Ladislav Župančić ~ Fullstack Developer | Iva Kaligarić ~ Strategic Director | Nina Trumbić ~ Project Lead | Marin Balaić ~ Case Video Author
Associates
Marko Mihaljević ~ Project Photographer
OUTDOOR AKZENT
Gabrijela Klarić ~ Director | Krešimir Brlić ~ Sales Manager