As technology is rapidly developing, getting used to its benefits is developing equally fast. Not so long ago scrolling through Limewire's unlabeled songs felt like magic, whilst now we fly off the handle if Spotify is not instantly connecting on the terrace.
THERE'S NO CONNECTION
Iskon's new product is intended for everyone who has trouble with their Wi-Fi signal. It allows customers to successfully connect from every corner of every room. Now you can surf all over the house, no matter the size of it - you can do it in the bathroom, you can do it on the balcony, you can do it in the basement, you can even do it in the attic! How to communicate that message to potentially new Iskon's customers unimpressed by commercials made for (seemingly) similar products?
MESHED TOGETHER
Unlike regular Wi-Fi repeaters, Iskon's new product is based on MESH technology that's more efficient in fixing the Wi-Fi signal. To differentiate it from the lesser products while communicating its main purpose (fixing the signal) to the target, we branded the service as Wi-Fi MESHtar (meštar meaning handyman in Croatian).
"There's no connection"
- Viktorija Đonlić, 1996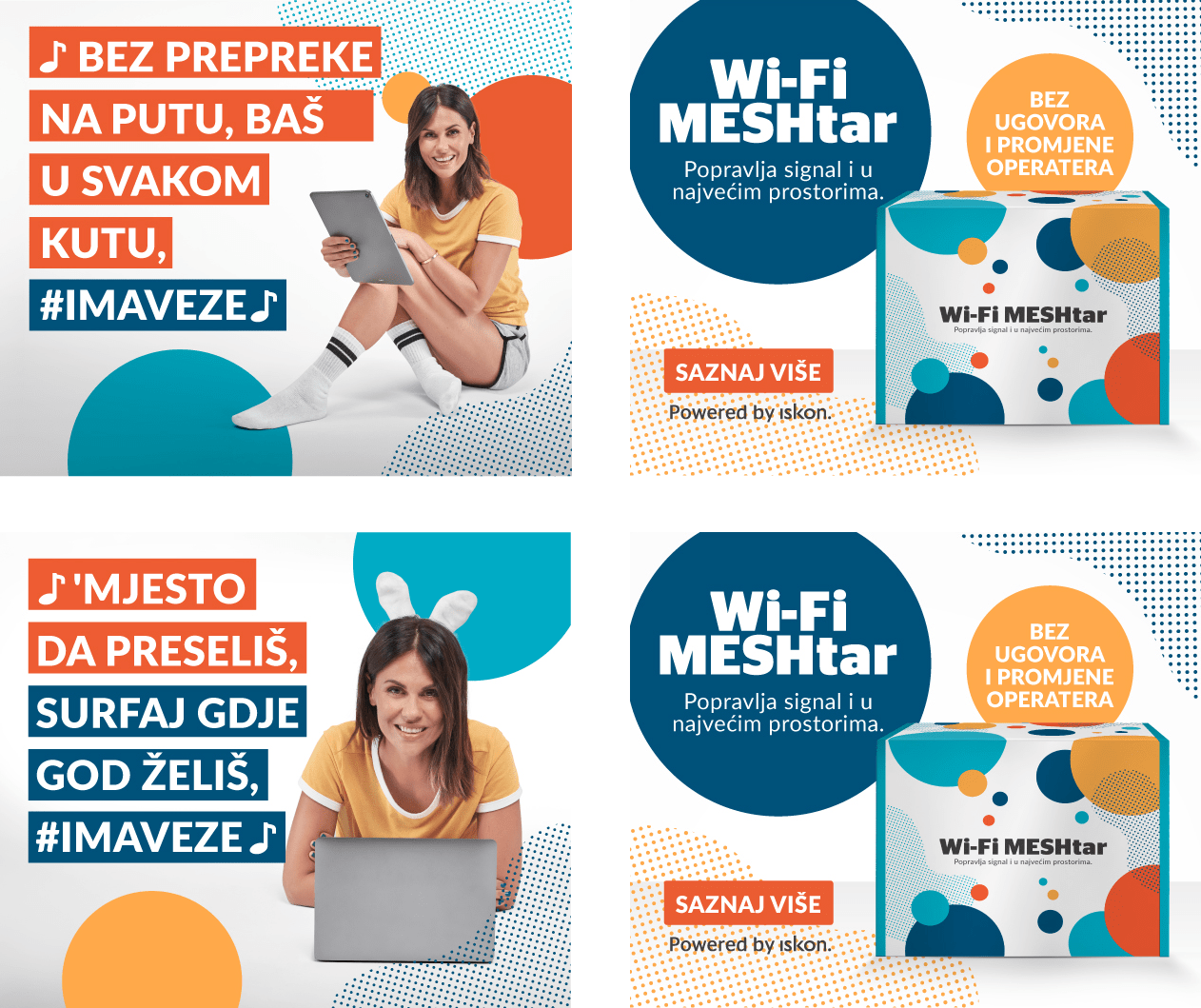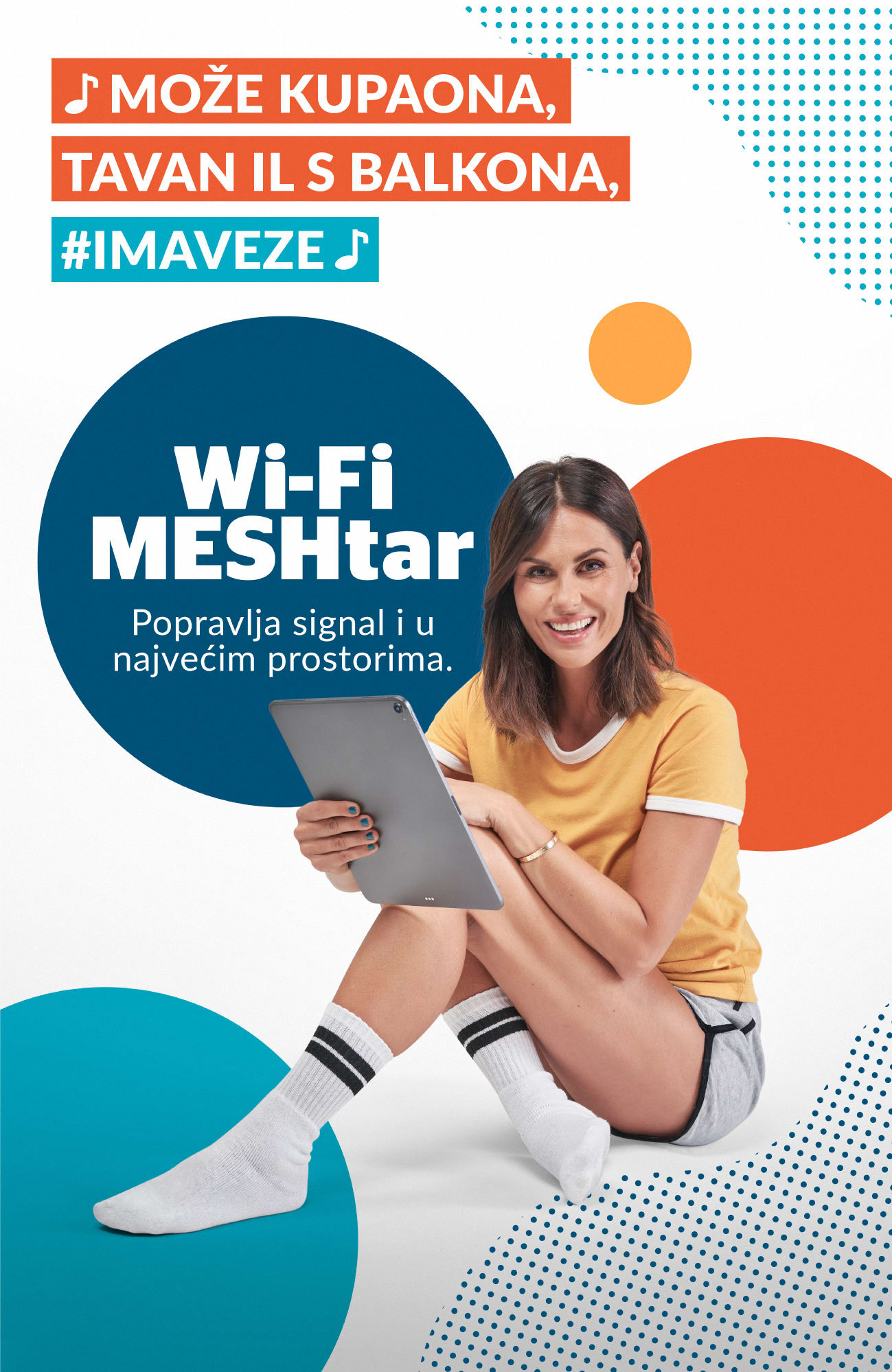 A MELODY FOR WEB SURFERS' EARS
To obtain a memorable communication that successfully displays the product's main USP - a perfect signal all over the house - we covered a legendary '90s hit song "Nema veze" by Viktorija Đonlić. The well known tune celebrates boundless locations perfect for "physical loving", but the title of the song has two meanings in Croatian - one is that something doesn't matter and the other one's that there's no connection. For those with a Wi-Fi connection stuck in 1996, we invited Viktorija again and recorded a music video for a brand new song - one in which there's always a (Wi-Fi) connection!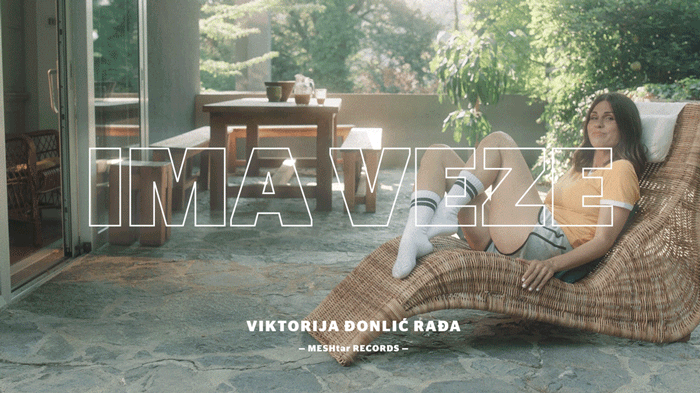 Credits
Señor
Vanja Blumenšajn ~ Very Creative Director, Copywriter | Jurica Ćorluka ~ Creative Director, Copywriter | Zvonimira Milevčić ~ Junior Copywriter | Stipe Bačić ~ Account Manager | Tomislav Fabijanić ~ Designer | Mišel Kovačić ~ Designer
Associates
Filip Filković Philatz ~ Director (More magnets) | Renata Lučić ~ Producer (More magnets) | Toni Renaud ~ DOP (More magnets) | Guido Mineo ~ Composer
ISKON
Iva Pregernik Jungić ~ Director of Marketing Communications | Tajana Čonka ~ Specialist in Marketing Communications | Krešimir Madunović ~ President of the Board | Gordan Glušac ~ Marketing Director