Like all brands, employers too have the reputation and values that are more or less in line with ours. What kind of reputation that is, which values the employer offers to each of their employees, what message they send and, finally, whether it all suits us so much that we'd love to earn a salary there, which we'll then spend on other brands – these are just some of the questions that employer branding answers.
EMPLOYER TRENDING
The point of employer branding is to showcase and present the company as a desirable workplace in order to attract new employees and retain the talented current ones. Its importance is unquestionable. The current situation in which many high-quality young people are leaving the country, and those who are staying turn pickier and switch jobs more often than before, brought about a growing trend of companies reaching out to brand experts in order to build the image of themselves as employers. The fight for each employee on the labor market begins even before the interview, during which more often than not the employer feels as if they've come to be interviewed by the one looking for the job.
SEÑOR EMPLOYED FOR BRANDING
Since we know how to make "ordinary" brands, we also know how to brand employers. The same professional principles that are used for telecom services, olive oil or insurance policies can be applied to employer branding. Even before the term entered the vocabulary of every self-respecting marketer, Señor worked on successful employer branding campaigns for Atlantic Grupa, Carnet, Wiener insurance and Franck. Now that moment has come for our longtime client, Iskon.
TO ISKON ABOUT ISKON
In the past we worked on how to present Iskon to its customers; now we got ourselves into presenting Iskon to Iskonians – its employees. How to present Iskon as an employer to its future and current employees through an important, clear and memorable message expressed in the brand's spirit? How to best explain what it means to be an employee of Iskon?
LIKE AN ISKONIAN
Uniqueness is a virtue that Iskonians are very proud of, and freedom is one of the top qualities they enjoy. We recognized both as the key links in Iskon's communications as an employer brand. Guided by this idea, we decided to place Iskon's employees at the very center of the entire employer branding campaign. That's why Iskon's fundamental values are presented through first-person statements and with real-life faces of Iskonians on the visuals. Because who can say what it's like to be an Iskonian better than, well, an Iskonian. The catchphrase at the end of each statement is the concept's key message at the same time – a simple and unique expression that describes what it means to be – like an Iskonian.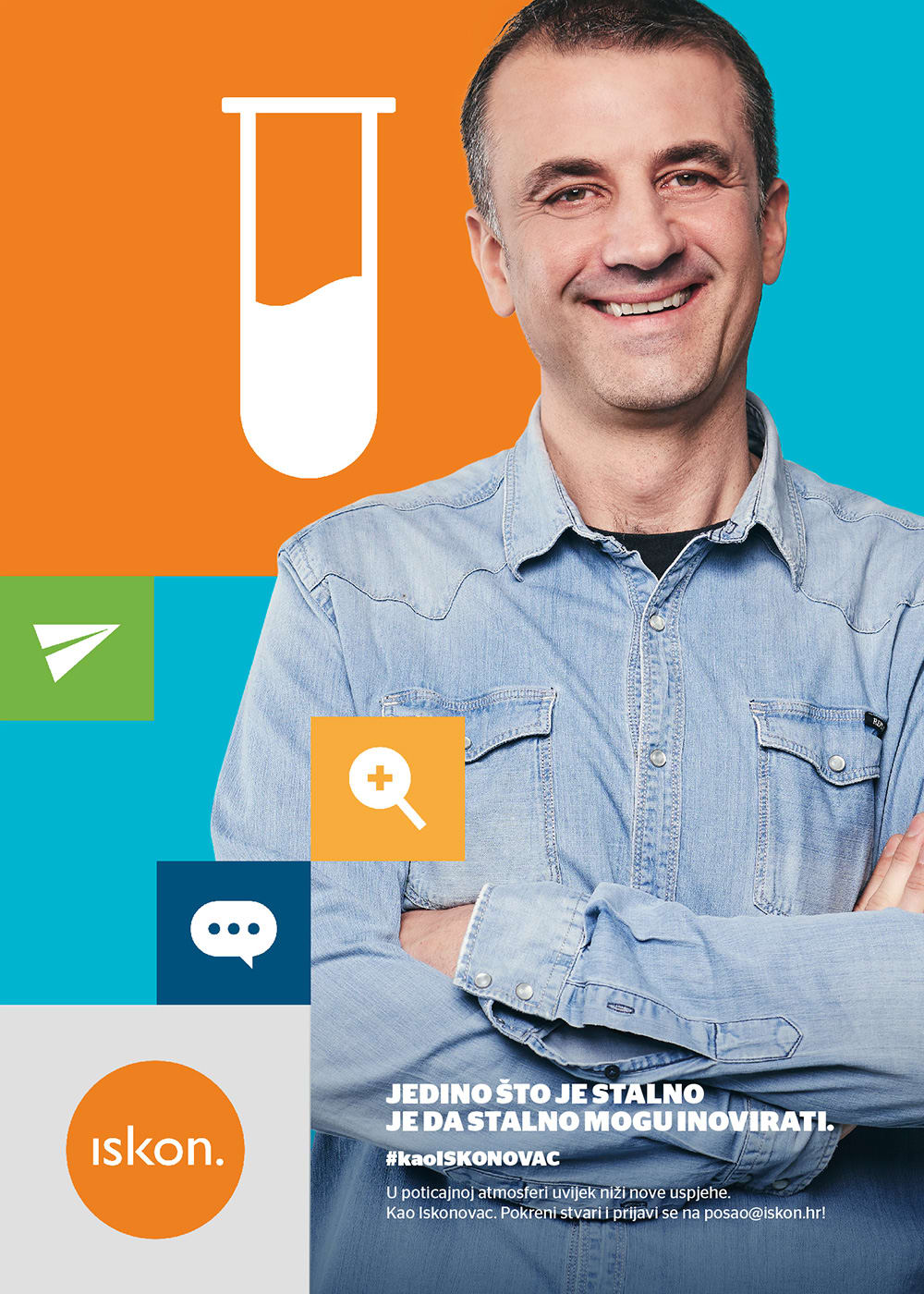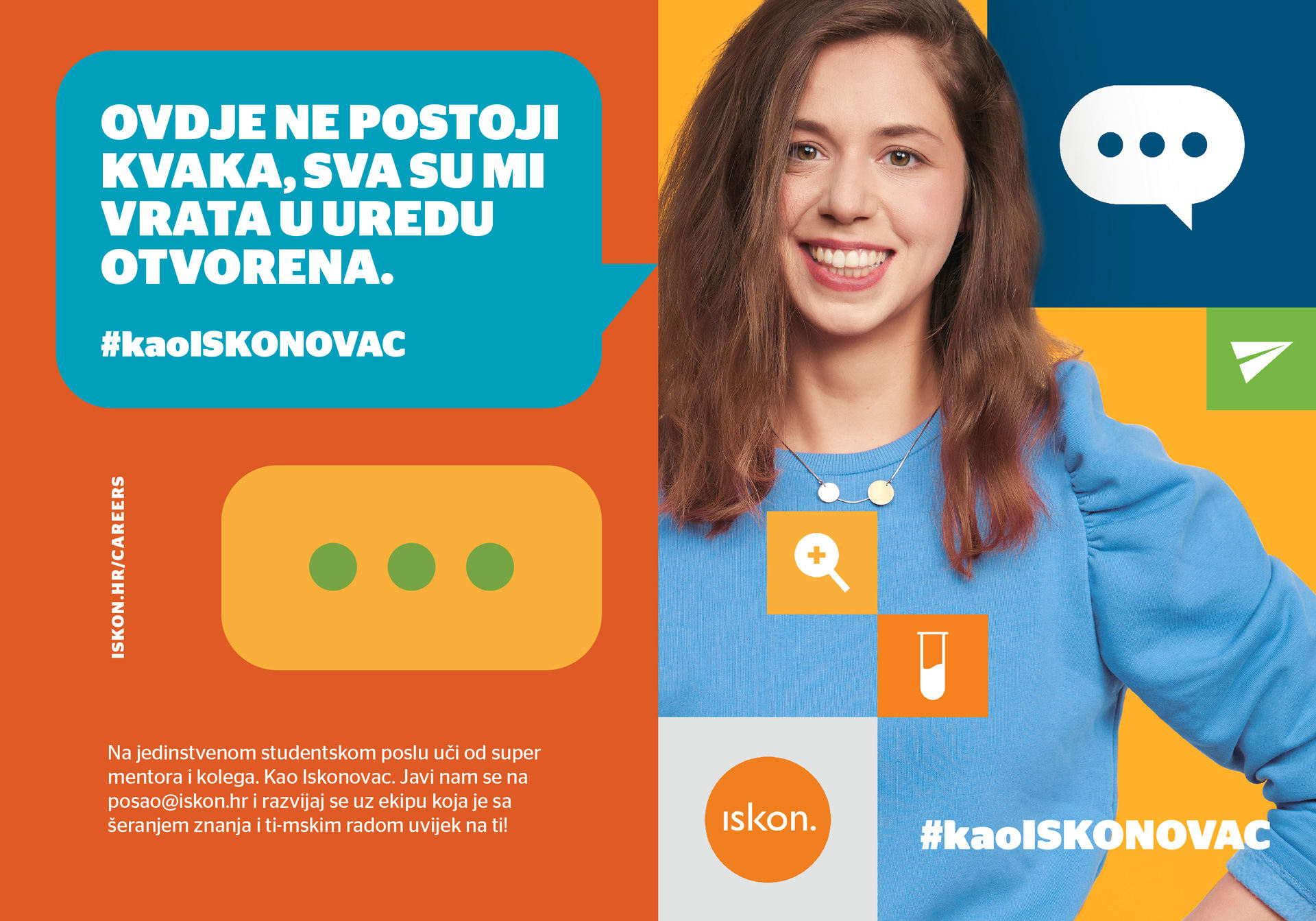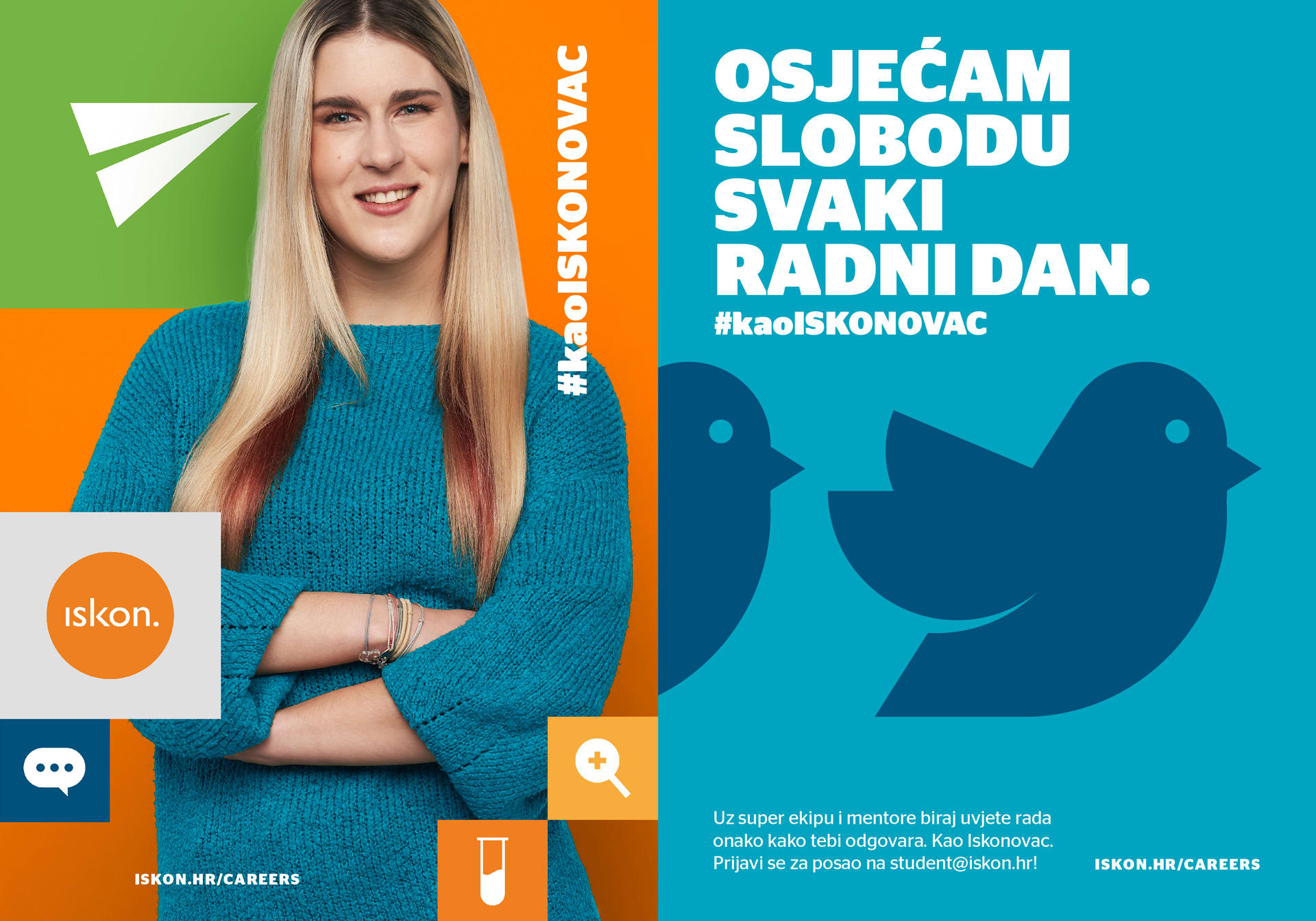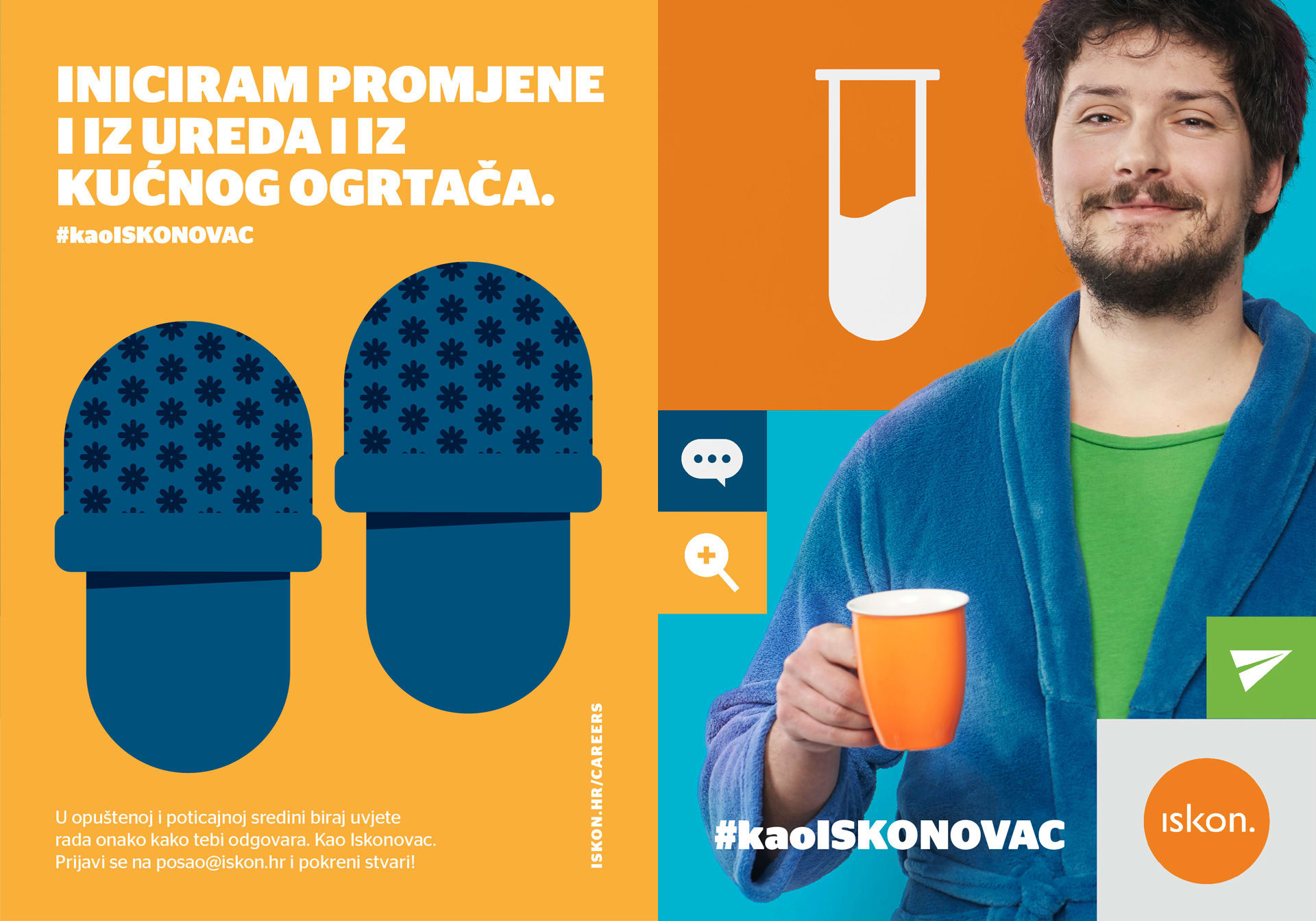 After we established the values, the next step was to transfuse them into the materials for each department separately (Iskonians come in different departments and groups) and set up guidelines for all future online and offline communications, both internal and external.
We really delivered heaps of stuff. - key account manager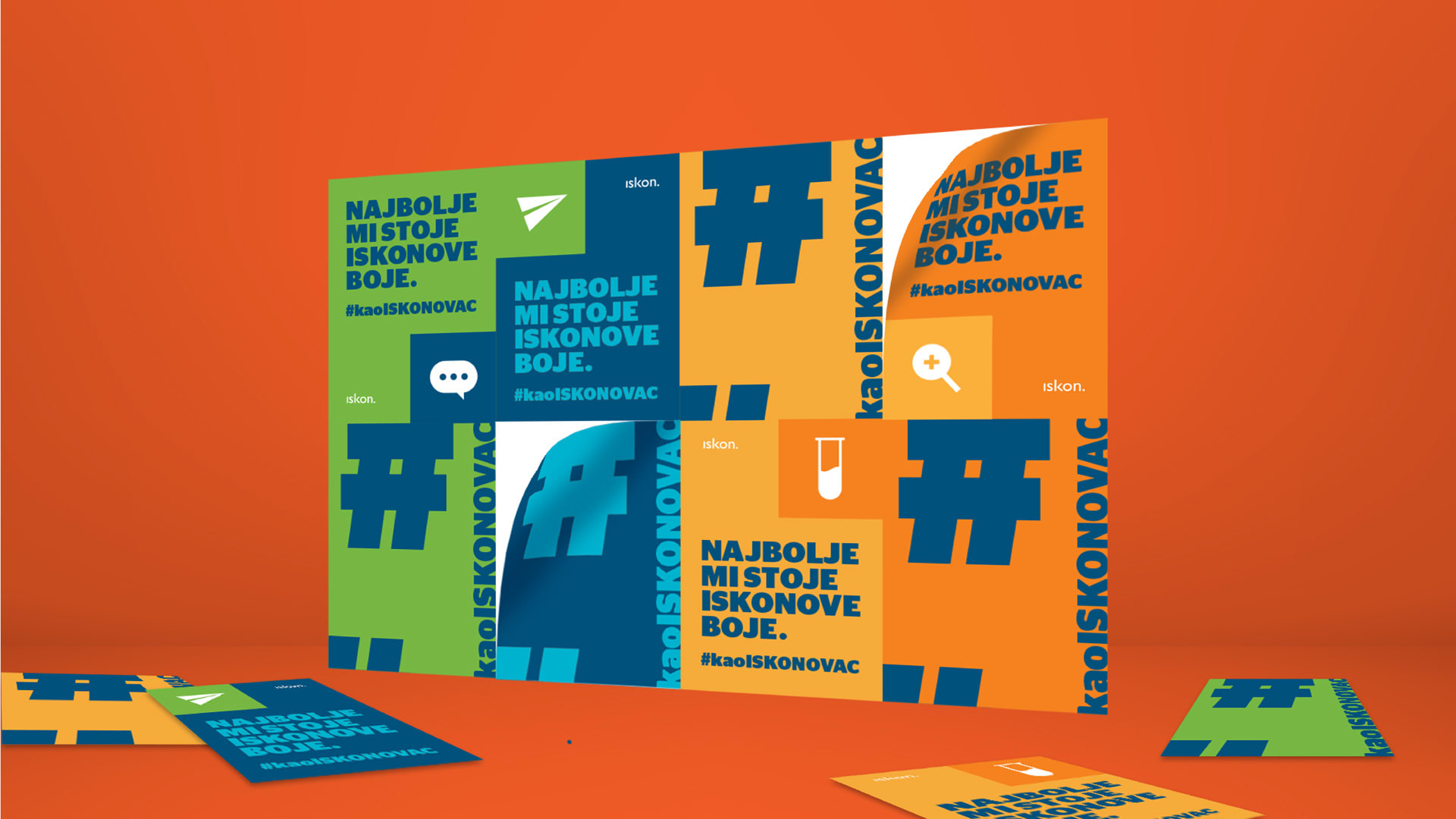 This focus on Iskon's employees also meant having to adapt elements of Iskon's visual identity, so that it can reflect the values of Iskon as an employer, not just a telecom company. So far used to design being directed at their customers, this time Iskonians saw it under different guise – with a more vibrant color spectrum and a freer form of basic elements of visual identity that we played around with on every material.
We're employer branded head to toe. – Iskonians in all the departments
ISKONIANS IN THE SPOTLIGHT
If a picture says a thousand words, how many are said in a video which has words? We used real statements by real-life Iskonians about their workplace as the frame for the script of the employer branding video. That's why we gave the lead role in the video to employees, the only professionals who don't need to act what it is to be – like an Iskonian.
Credits
Señor
Jurica Ćorluka ~ Head of creative, copywriter | Lucija Drača ~ Junior copywriter | Tomislav Šestak ~ Art director | Tomislav Fabijanić ~ Senior designer | Mišel Kovačić ~ Designer | Danijela Maričević ~ Head of account | Ana Ključević ~ Account manager | Iva Kaligarić ~ Strategic director
Iskon
Iva Pregernik Jungić ~ Marketing Communications Director | Iva Vukšić ~ Head of PR, internal communications and sponsorships | Tajana Čonka ~ Marketing Communications Specialist | Krešimir Madunović ~ President of the Board
Associates
Filip Filković Philatz ~ Director (More Magnets) | Renata Lučić ~ Producer (More Magnets) | Damir Žižić ~ Photographer